What The Elle - 🍠 Thanks Where Thanks Is Due

Sallie's Opinion
A Moment to Reflect
It's the gratitude time of year. And before I sign off to head with my crew down south to join my sister — and her girls and my parents and all of the cousins and all of their partners — for some turkey, oyster stuffing, and potato kugel (my grandmother's recipe), I want to share how grateful I am.
For all of you. For the hard-working and mission-driven Ellevest team. For all of the investors in Ellevest — ranging from the individual investors, primarily from underrepresented groups who made up such a large portion of our last fundraise, to our institutional investors.
We are all fighting, in our own ways, to change the status quo. And at the same time — in the midst of the fight — we can take a moment to recognize the good fortune we do have.
Thank you to all of you,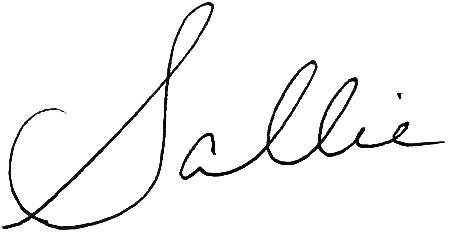 CO-FOUNDER & CEO
"I doubled my F*ck-You Fund this spring, and finally quit my toxic job in the summer 🙌🏽."
–@maureenluyun's #EVMoneyWins. As 2023 approaches, we're celebrating all the amazing $ things our community accomplished in 2022. Let us celebrate yours! Tell us about them here.
120 Businesses Owned by Native American Women
We know the real story (stories) of Thanksgiving by now. But November is Native American Heritage Month, and Native American women still earn just 57 cents for every dollar a white man makes. How are we giving thanks this week, you ask? By lifting up — and materially supporting — some of these awesome Native American artists, entrepreneurs, and thinkers.
Ellevest Events
•

All About Membership @ Ellevest: What kind of wealthtech company would we be if we didn't make sure you got your money's worth? 🤓

NEXT MONDAY 12 PM ET: Sign up for free

•

Planning Your Dream Retirement: Holiday season got you thinking about a permanent OOO message? We'll help you plan for it. 🏖️

NEXT THURSDAY 12 PM ET: Sign Up
Busy this month? Check out all upcoming workshop dates and times.
How to have That Talk™ with your parents about their retirement funds
Did you know that nearly 1 in 3 adult children end up helping their aging parents out financially? If you're worried about broaching the subject with yours over the holiday weekend, we've got a few key tips to get you started.
The best gift to give yourself this holiday season?
This week's newsletter was brought to you while mattress surfing. Forward it to your friends who would rather learn about Voltaire.
FOLLOW US
© 2022 Ellevest, Inc. All Rights Reserved.

All opinions and views expressed by Ellevest are current as of the date of this writing, for informational purposes only, and do not constitute or imply an endorsement of any third party's products or services.

Information was obtained from third-party sources, which we believe to be reliable but not guaranteed for accuracy or completeness.

The information provided should not be relied upon as investment advice or recommendations, does not constitute a solicitation to buy or sell securities and should not be considered specific legal, investment or tax advice.

The information provided does not take into account the specific objectives, financial situation, or particular needs of any specific person.

Investing entails risk, including the possible loss of principal, and past performance is not predictive of future results.

Ellevest, Inc. is a SEC registered investment advisor. Membership fees and additional information can be found at

https://www.ellevest.com/

.

Key phrases
Older messages
Tuesday, November 15, 2022
Plus, a better workplace, ditching the awk holiday gift talk, and cake for breakfast. ‌ ‌ ‌ ‌ ‌ ‌ ‌ ‌ ‌ ‌ ‌ ‌ ‌ ‌ ‌ ‌ ‌ ‌ ‌ ‌ ‌ ‌ ‌ ‌ ‌ ‌ ‌ ‌ ‌ ‌ ‌ ‌ ‌ ‌ ‌ ‌ ‌ ‌ ‌ ‌ ‌ ‌ ‌ ‌ ‌ ‌ ‌ ‌ ‌ ‌ ‌ ‌ ‌ ‌ ‌ ‌ ‌ ‌
☑️ An Important Note About Tomorrow
Monday, November 7, 2022
Plus, market updates, Fed rates, and cheap avocados. ‌ ‌ ‌ ‌ ‌ ‌ ‌ ‌ ‌ ‌ ‌ ‌ ‌ ‌ ‌ ‌ ‌ ‌ ‌ ‌ ‌ ‌ ‌ ‌ ‌ ‌ ‌ ‌ ‌ ‌ ‌ ‌ ‌ ‌ ‌ ‌ ‌ ‌ ‌ ‌ ‌ ‌ ‌ ‌ ‌ ‌ ‌ ‌ ‌ ‌ ‌ ‌ ‌ ‌ ‌ ‌ ‌ ‌ ‌ ‌ ‌ ‌ ‌ ‌ ‌ ‌ ‌ ‌ ‌ ‌ ‌ ‌ ‌ ‌
Tuesday, November 1, 2022
A workforce designed for women, how to prep for a recession, and a tip of the week. ‌ ‌ ‌ ‌ ‌ ‌ ‌ ‌ ‌ ‌ ‌ ‌ ‌ ‌ ‌ ‌ ‌ ‌ ‌ ‌ ‌ ‌ ‌ ‌ ‌ ‌ ‌ ‌ ‌ ‌ ‌ ‌ ‌ ‌ ‌ ‌ ‌ ‌ ‌ ‌ ‌ ‌ ‌ ‌ ‌ ‌ ‌ ‌ ‌ ‌ ‌ ‌ ‌ ‌ ‌ ‌ ‌ ‌ ‌
💊 Go Ahead, Be a Pill About It
Tuesday, October 18, 2022
Plus, tax-free tampons and how to apply for student loan forgiveness. ‌ ‌ ‌ ‌ ‌ ‌ ‌ ‌ ‌ ‌ ‌ ‌ ‌ ‌ ‌ ‌ ‌ ‌ ‌ ‌ ‌ ‌ ‌ ‌ ‌ ‌ ‌ ‌ ‌ ‌ ‌ ‌ ‌ ‌ ‌ ‌ ‌ ‌ ‌ ‌ ‌ ‌ ‌ ‌ ‌ ‌ ‌ ‌ ‌ ‌ ‌ ‌ ‌ ‌ ‌ ‌ ‌ ‌ ‌ ‌ ‌ ‌ ‌ ‌ ‌ ‌
👩🏽‍💼 What's Wrong with "Woman CEO"?
Tuesday, October 11, 2022
Plus, a markets update and tips for minimizing the financial effects of burnout. ‌ ‌ ‌ ‌ ‌ ‌ ‌ ‌ ‌ ‌ ‌ ‌ ‌ ‌ ‌ ‌ ‌ ‌ ‌ ‌ ‌ ‌ ‌ ‌ ‌ ‌ ‌ ‌ ‌ ‌ ‌ ‌ ‌ ‌ ‌ ‌ ‌ ‌ ‌ ‌ ‌ ‌ ‌ ‌ ‌ ‌ ‌ ‌ ‌ ‌ ‌ ‌ ‌ ‌ ‌ ‌ ‌ ‌ ‌ ‌