Foundr - 💰Save 33% and become an entrepreneur
To prove that just one new idea can change your life in 2023 faster than you ever thought possible, I want to introduce you to some special entrepreneurs…
Meet the inspiring entrepreneurs who we've been fortunate enough to help!

Jacqueline
Jacqueline's a young Mom who wanted to help prevent mental health issues for future generations. Using Greta van Riel's 4-step idea innovation framework…
She came up with an idea around mindfulness products for children, generated half a million in under 2 years, was featured in Bloomingdales, and even endorsed by Oprah!
Alicia
Alicia, another young Mom who wanted to spend more time with her son, had an idea for a sustainable nut milk machine…
Using Gretta's process she hit $10k in her first week, six-figures in 3 months, and was featured by CBS and ABC!
Click here to see the products they sell.
From young moms, to 71-year-old dentists, a former Project Runway star, and more than 20,000 students who've now put this system to the test…
We have more screenshots, "wins", and case studies than we could share in a single email.
Sara Sidari

Sara followed the step-by-step Start & Scale framework and had enough orders to spend two full days packing.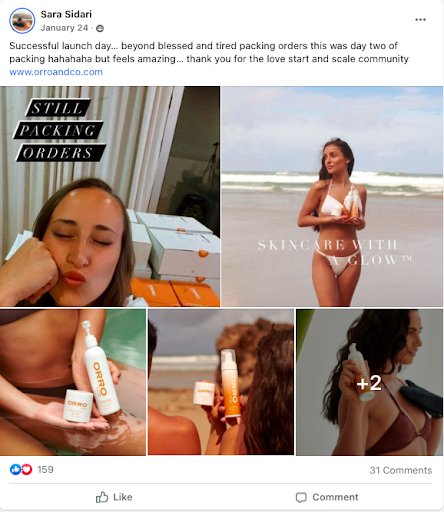 Maura Ruiz
Maura had two failed businesses before she had the opportunity to enroll in our Start & Scale program. And using the step-by-step framework she made $2,000 in less than a week, and went on to start more online stores.
Shamanth
Shamanth who felt overwhelmed by the abundance of information and the daunting task of launching a product effectively. But everything changed with the Start and Scale program. Its step-by-step framework provided a clear path for Shamanth to launch an ecommerce product that generated over $35,000 in revenue with 300+ orders. 
Amity Lee
Amity not only launched her first online store and broke the $50K mark in sales in just 4 months, she did it again with her second brand and did $20K in just 24 hours! If this isn't proof of a proven framework that you can use over and over to launch successful brands, then I don't know what is.
If all of these people, who had no related background had turned themselves into successful entrepreneurs using the frameworks inside foundr+, think of what you can do. 🤔
Just one successful brand can completely change your life!
****And we want to help YOU change your life!****
With 27+ in-depth business building courses, plus a supportive community of 30k+ like-minded entrepreneurs who will help hold you accountable so you finally build your dream business in 2023 and at least 2 live group coaching calls every month…
You can't go wrong!
Right now, during this Summer sale, you can enroll at the LOWEST PRICE ever!
It doesn't get better than this here at foundr. 
If you're ready to build, this is worth checking out.
Keep learning and building,
Nathan Chan
P.S. If you're serious, and have at least $5000 dollars to invest in a business that you're truly proud of… This is the best deal we've ever made. It includes all the step-by-step guidance you need and even LIVE q&a workshops so you'll never get stuck again.

Get started today and shock everyone with your results!
P.P.S. Opt out text and link here

Key phrases
Older messages
Sunday, June 4, 2023
To become an entrepreneur now! Hi , Have you ever dreamed of living like a mermaid? Swimming in crystal clear waters, feeling the cool ocean breeze on your skin, and basking in the warm sun all day
Saturday, June 3, 2023
I didn't know what I was doing Hi , When I first started Foundr, it was by pure accident. I was working in an IT job, which I wasn't getting joy from. I wanted to get a job in marketing, and so
Friday, June 2, 2023
plus powerful motivation Hi , One of my most powerful entrepreneurial lessons came when I was pursuing my first job—at McDonald's. After getting turned down at one location, I dropped off my resume
🚨 6 hours to go - Memorial Day sale
Thursday, June 1, 2023
We have to remove it by then Hi , In 6 hours, we'll be closing doors to this: The Memorial Day sale for foundr+ membership Foundr+ will help you: Start a business from scratch Scale your existing
⏰ 12 hours left for Memorial Day sale
Thursday, June 1, 2023
ends today Hi , Keeping it short… Just 12 hours to go! Grab your special Memorial Day deal for foundr+ our flagship membership that grants you instant access to… 27 premium cutting-edge courses on