If you like Ava Max, Rainbow Kitten Surprise, or GRiZ...
Album Daily Week #73: April 12th - 16th

Whether you spent your Sunday watching The Masters, viciously addicted to the latest blockchain craze BitClout, or accidentally driving to Chick-fil-a... at least it's time to discover some new unique music in week #73 of Album Daily. We've heard you loud and clear that you want as much diversity in your recommendations as possible, so we're bringing you 4 different genres from 4 different release years. Keep shooting us those emails, engaging on Twitter, and commenting on Instagram for your much-appreciated feedback!

Turn your speakers up!

- Andrew, Lowell, and Matt
Genre: Indie-Alternative
Release Date: March 2nd, 2018
Top Tracks: Silver Lining, Astrovan, Jenny Jenkins
Similar Artists: Houndmouth, Rainbow Kitten Surprise

"Mt Joy feels like the band playing at your high school homecoming dance as new sweethearts dance in each others arms. Truth be hold, I've never heard of a high school actually having a live band at its homecoming … for instance, my high school featured the student council president compiling a USB drive with "Souljia Boy" on it no less than 5 times, but i've definitely seen it in movies. I digress, and, while the reference still fits IMO, Mt. Joy certainly has more depth than a background cover band. They've got the folk-rock-indie sound down to a tee that's both crowd pleasing and refreshing. Their lyricism sets Mt Joy apart from the crowd, as they offer honest and humble takes on life's common struggles. Lead singer Matt Quinn ruminates on lost love, artistic frustration, and religious questioning, forcing listeners to take a step back and reflect on what truly matters.

Click here to learn more: Mt Joy feels like they are on the verge of exploding. They've toured with The Head and the Heart, Rainbow Kitten Surprise, and most recently, The Lumineers. I had the chance to see them live in Indianapolis a few years ago and they blew me away. Check out them performing some of their most notable singles live at the Ringer Room here, and be sure to keep an eye out for this 5-piece Philly band in coming years!"
Way Back When
Louis Futon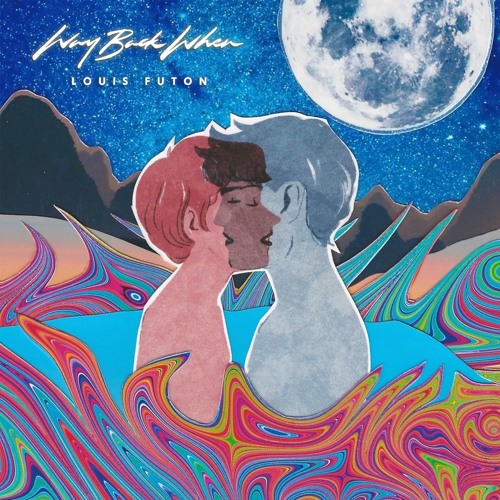 Genre:

Electro-jazz
Release Date: February 22nd, 2019
Top Tracks: Venice, Rewind, Silk Jam
Similar Artists: GRiZ, Big Gigantic

If you like an album with an exorbitant amount of features, Way Back When is for you. There are 14 artist features on this 14-song LP. To give you a good feel of what you're getting yourself into for this album, picture you're at a jazz club but all of the artists are wearing metallic suits and all the tables are yellow smiley faces. If you're looking to listen to a new album every day this week, this is a phenomenal candidate.

Click here to learn more about the album: In an era where electronic producers are much more focused on making singles and remixes, Louis Futon stands out from the crowd by creating this cohesive album. The song "Surreal" was actually the song to kick it off as Louis Futon is quoted saying "(Surreal) really signified a change in my sound that was different from the rest of my discography, and I think it helped shaped my sound moving forward." Read this article from Billboard to get the full story behind every single song!
Loaded (2015 Remastered)
The Velvet Underground
Genre: Rock
Release Date: November 15th, 1970
Top Tracks: Oh! Sweet Nuthin', Sweet Jane, I Found a Reason
Similar Artists: The Zombies, Patti Smith, The Yardbirds

Road trip music. Plain and simple with this one. This album is best enjoyed with the wind flowing through your (hopefully dark and luscious) hair and a full tank of petrol. It's classic soft-rock in its purest form. The Velvet Underground are a full stack band that saw their fair share of turmoil and turnover; as any rock and roll band worth their weight has. Though the band didn't get much public acclaim in their lifetime, the group did receive critical acclaim many years later.

Click here to learn more: Andy Warhol (yes that Andy Warhol, the one who made your can of Chicken Noodle Soup in the cabinet look cool) was a manager for the band and made them the house band of one of his studios in 1967.
The Kids Are Coming
Tones and I
Genre: Pop
Release Date: August 29th, 2019
Top Tracks: The Kids Are Coming, Dance Monkey, Jimmy
Similar Artists: Ava Max, Nea, Drax Project

Little known Australian group making a huge splash with this electric album in order to shock and awe. It's incredibly relevant politically as they're letting the old order know that change is coming and the old ways will die. Culturally this album hits the mark with multiple songs focused on bullying. Hard to find a first album by a new group that we can all relate to and cling to with a hope of the better future it brings in a powerful 21 minute album.

This album is brought to us by Chris Fleming! Reach out to Chris on Twitter and let him know what you think!
Of Course You Do
Slothrust
Genre:

Rock
Release Date: February 18th, 2014


Top Tracks:

7:30 AM, Magnets Pt. 2, Cubicle, & Crockpot
Similar Artists: Bully, Cherry Glazer, Charly Bliss

Every song on the album is filled with cleverly articulated lyrics that pair beautifully with fuzzy guitar contrasting "sonic elements to forge a muscular sound that's uniquely their own." The song 7:30 AM, featured on the album, was selected as the theme for the show "You're the Worst." and on their last tour Slothrust played aside Highly Suspect and Manchester Orchestra.

This album is brought to us by Kennedy Matz! Let Kennedy know what you think of the album on her Twitter or Instagram. Thank you!
Let us know what you think of the albums
Share Album Daily
Be the friend that recommends great music,

forward this email to someone who loves music
Have an album suggestion, or interested in doing a guest review? Just reply to this email and you'll reach us.

Until Next Time!
- Andrew, Lowell, and Matt
This email was sent to you


why did I get this?

unsubscribe from this list

update subscription preferences


Album Daily · 242 N Summit St · Indianapolis, IN 46201 · USA


Older messages
If you like Sublime, Dolly Parton or George FitzGerald...
Monday, April 5, 2021
We didn't hold back with this week's albums. Your ears are in for a real treat. #72- The Week of March 28th - April 3rd Before we get into the nitty, gritty ear food this week, could you do us
Five albums, five different genres - this week on Album Daily!
Monday, March 29, 2021
Highlights this week from Maggie Rogers, Asia, Susto, and more ... #71 - The Week of March 29th - April 2nd This week's albums come from artists you may have heard before but are definitely worth
A double-dose of Rock this week, plus some Indie, Pop & Electronic ...
Monday, March 22, 2021
Albums this week from The Wombats, Red Hearse, & Mura Masa #70 - The Week of March 22 - 26 Abilene Christian Basketball's win over Texas this weekend --> MADNESS The first time I heard Rise
If you like Halsey, Modest Mouse, Armand van Helden or Grouplove...
Monday, March 15, 2021
This week we've got some a nice healthy dose of Rock, Pop, Electronic, Jazz and of course some Indie music headed straight to your inbox! #69 - The Week of March 22-26 Have you all heard the rumor
🎵 If you like Glass Animals, Bruce Springsteen, or Prince...
Monday, March 8, 2021
Discover unique Pop, Rock, and Indie music this week! Week #68 of Album Daily - March 8th to 12th We'd like to take this opportunity to announce our brand new Album Daily NFTs! Our NFTs (new funky