SaaStr Annual flash sale ends tonight
To view this email as a web page,
click here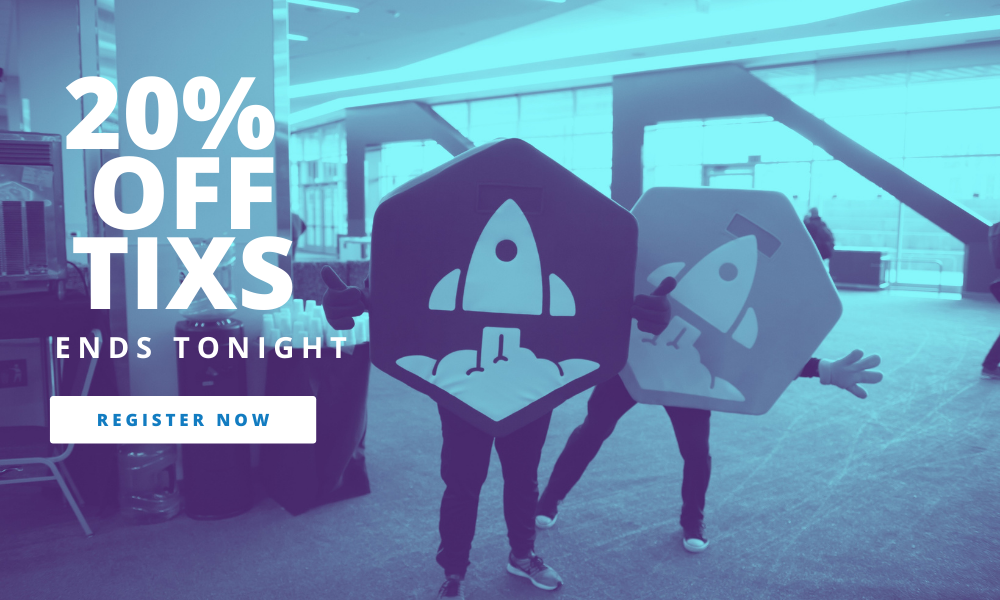 The 20% off Flash Sale Ends Tonight

3 Days.
In-person.
1000+ Networking Sessions.
400+ VCs (Meet 'em, pitch 'em)
150+ Speakers
100+ Sessions and Classes
The 7th SaaStr Annual on Sept 27-29 will be the largest SaaS community event on the planet.
Get ready for specific, SaaStr-style actionable advice and learnings to help grow your business from $0 to $100M ARR. No commercials, no paid content, no boring panels. Every session is hand-screened and vetted to help you learn.
SaaStr is all about our community. We provide endless opportunities to share and learn with peers from every role, function, industry, company size, and beyond.
Our speakers and attendees are really what make our SaaStr community shine. Our full speaker roster is coming later this week, but we wanted to share a sneak peek of our 2021 SaaStr Annual speakers:
Lakshmi Hanspal, Global Chief Security Officer at Box

Jennifer Tejada, CEO at PagerDuty

Anjali Sud, CEO at Vimeo

Ali Ghodsi, CEO at Databricks

Ariel Cohen, CEO at TripActions

Tope Awotona, CEO at Calendly

Kady Srinivasan, Head of Marketing at Klaviyo

Jessica Weimer, Vice President, Global Revenue Marketing at Confluent

Harley Finkelstein, President at Shopify

Tomasz Tunguz, Managing Director at Redpoint Ventures

David Skok, General Partner at Matrix Partners

Karen Peacock, CEO at Intercom

Amanda Malko, CMO at G2

Sydney Sloan, CMO at Salesloft

and many more!
Be in the audience to learn from these incredible speakers, plus so much more. Grab your SaaStr Annual tickets for 20% off before prices our flash sale ends and prices return to normal at midnight.


"SaaStr Annual is rocking, great content and great speakers - lots of takeaways that I can start implementing next week. #nextlevel"
- Bill Green, VP Customer Success, Fluke
*Ticket promotion valid on new ticket purchases only.
Unsubscribe
Older messages
Why Emotionally Intelligent People Embrace the 2-Way-Door Rule to Make Better and Faster Decisions
Tuesday, July 6, 2021
Tuesday, July 6, 2021 Owner's Manual Why Emotionally Intelligent People Embrace the 2-Way Door Rule to Make Better, Faster Decisions Lead Holding Your Own Against Big Name CEOs? Apply to Inc.'s
Best Led Companies
Tuesday, July 6, 2021
INC. THIS MORNING Best Led Companies Good morning, Are you proud of the work your leadership team has done to distinguish your brand among companies with revenues of $50 million to $2 billion? Think
SaaStr Annual 2021: 48 Hour Flash Sale
Monday, July 5, 2021
Where the Cloud Meets. Sept 27-29, 2021. SF Bay Area and Online To view this email as a web page, click here SaaStr Annual 2021 | Sept 27-29 | SF Bay Area 20% OFF Tickets to Annual 2021! A few of your
25 Books by TED Speakers That Will Expand Your Mind This Summer
Monday, July 5, 2021
Monday, July 5, 2021 Business Books 25 Books by TED Speakers That Will Expand Your Mind This Summer Technology The 5 Best iOS 15 Features that Will Make Your iPhone the Ultimate Productivity Tool
Betting on aliens
Monday, July 5, 2021
INC. THIS MORNING Betting on aliens Good morning, Few phenomena excite the American public like aliens. And right now, alien-themed businesses are predicting rocketing sales from a new surge in tourism