SEO Digest #7: Google's Page Title Update, Snippet Tweaks and more

Hi Reader,
We've handpicked top pieces of content from all around the SEO community from the past week. Here's everything you need to stay up to date on new developments in search.
Search updates straight from the source
An update to how Google generates web page titles
Google confirms it now uses even more ways to generate page titles that are used in search snippets. Titles can be sourced from the H1 tag, any other text on the page, or even the anchor text from links pointing to the page. At the same time, Google claims it uses original title tags in over 80% of cases.
How to hide text in a snippet (video)
John Muller explains the new "data-no snippet" HTML attribute, which can be used to hide certain page elements from appearing in search snippets. The point is to stop Google from creating snippets that include sensitive information, dynamic content, or something you only want to be seen within the context of the page.
Remove web results from Google Search
Google puts together a bunch of guides on how you can remove content from search results. The article explains how you might be able to remove web results if you manage the website that hosts the content or the content on the web is about you.
Helping people and businesses learn how search works
Google updates its page on how search works. It's a basic introduction to the technology behind search, but also an ode to the overall complexity of the modern search algorithm.
Cool stuff from the rest of the SEO world
Google's title rewrite dropped CTR by 37%! (here's how it was fixed)
A page experienced a sizable CTR drop once Google changed its title and shifted the perceived intent. A quick and easy fix brought the CTR back to normal, although it's kinda lucky it actually worked. Still, the details inside.
Build a continuous improvement machine for SEO (video + transcript)
Tory Gray shares her approach to using SEO as a long-term strategy rather than a one-off project or a string of one-off projects.
How to research keywords: a step-by-step guide for SEO
Andy Crestodina shares an update to perhaps one of the most comprehensive keyword research guides produced by the SEO community.
SEMrush shares the results of two SEO split tests
The first one is on whether adding emojis to recipe titles will have an effect on organic traffic, which it appears it does. The second one is on whether removing the last portion of breadcrumbs will have an effect on organic traffic, which it also appears it does.
Hottest threads from SEO forums
Reddit: What are the most common misconceptions about SEO?
Members of the biggest SEO community on Reddit share what they think are SEO misconceptions. Interestingly, polar opposite opinions appear throughout the thread with a little bit of back-and-forth between the parties. By the way, here is our list of what we think are SEO misconceptions of today.
BHW: Google does not know the difference between good and bad content
The post is a bit sensationalist, but the poster claims the website is able to attract a million organic visitors with AI-generated content. The response from the community is overwhelmingly bitter, with most believing this is not going to last.
BHW: How to create, develop, and manage multiple Reddit accounts
Black Hat World user shares their strategy to grow and manage multiple Reddit accounts. It's not an advanced guide, but there are a few useful tips for those of you who want to create multiple accounts either for yourself or to sell.
A bit of SEO humor
SEO world is stuck on the subject of rewritten titles, so here's something to lighten the mood. Credit goes to @pandraus.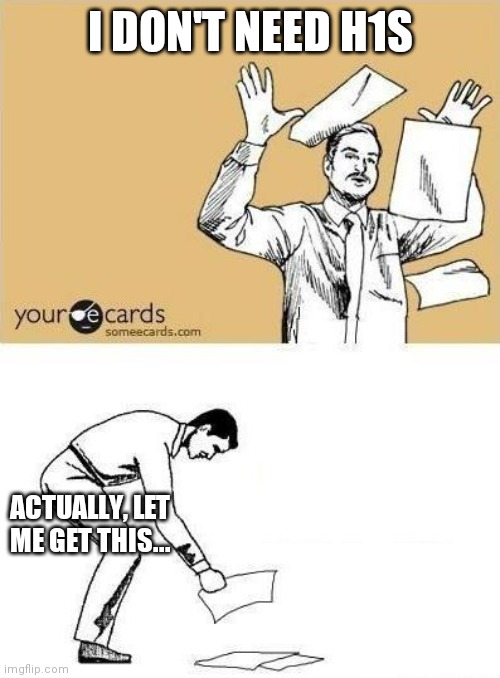 That's it for this week. Till next time!
---
Liked the digest? Share it with your friends:
Facebook | Twitter | LinkedIn | WhatsApp | Email
You are receiving this email because you subscribed to Link-Assistant.Com news. If you do not want to receive our email again, click to unsubscribe.

If you want to unsubscribe exclusively from this SEO digest, please contact our support or reply to this email.
Older messages

Image SEO: The Ultimate Guide for 2021
Wednesday, August 25, 2021
Rank higher and drive tons of traffic to your site using images Hi Reader, Images can drive tons of organic traffic to your site. But first, they need to be optimized. To help you out, I've put

SEO Digest #6: Google Title Tag Update, New YouTube SERP + Freebie Inside
Sunday, August 22, 2021
A very special issue of the weekly SEO digest with a FREEBIE inside Hi Reader, We've handpicked top pieces of content from all around the SEO community from the past week. Here's everything you

9 Ways to Sneak Your Product into a SERP
Wednesday, August 18, 2021
Learn about the 9 types of content you can build around your product to conquer the modern SERP Hi Reader, There are at least nine types of content you can use to sneak your products into a SERP. Often

SEO Digest #5: Core Web Vitals Workflow, Page Experience Tips and more
Sunday, August 15, 2021
Handpicked SEO news of the week straight from the source Hi Reader, We've handpicked top pieces of content from all around the SEO community from the past week. Here's everything you need to

SERP Analysis – Now in Rank Tracker
Friday, August 13, 2021
Analyze up to 50 competitors in SERP for any keyword, instantly Hi Reader, Want to know more about your search competitors? And factors, which helped them rank for a certain keyword? From now on, Rank