SEO Digest #5: Core Web Vitals Workflow, Page Experience Tips and more

Hi Reader,
We've handpicked top pieces of content from all around the SEO community from the past week. Here's everything you need to stay up to date on new developments in search.
Search updates straight from the source
Google answers frequently asked questions about GSC Insights
The questions are mainly about the data discrepancies, but there is also a little bit of information on how Google selects new content and most popular content.
Core Web Vitals workflow across Google tools
As you might know, Core Web Vitals reports are available across at least seven Google tools, each with a slightly different function. This article outlines the cycle of evaluating, fixing, and monitoring CWV metrics across these seven tools.
Google highlights essential steps to getting a good page experience
Continuing the series of videos on page experience, Google talks about the part of page experience that is not related to Core Web Vitals. The video is focused on HTTPS, mobile-friendliness, and intrusive interstitials.
15 tips for getting the most out of Google Trends
Google Trends is a deceptively simple tool. But, if you know how to use it, you can actually get a ton of insights on how people search across time and geography.
Cool stuff from the rest of the SEO world
Using personas to build your eCommerce content strategy
A long read article on how to split your audience into buyer personas and tailor your content to the buyer journey of each persona type.
Optimize your FAQ Schema to maximize positive outcomes
We often talk about the importance of structured data for today's search, but we rarely stop to give full detail on any individual Schema type. This article talks specifically about FAQ Schema and how to implement it on your pages.
SEO testing, an argument for using data in SEO
In almost half the cases, SEO improvements do not lead to any positive changes in search metrics. This article tells you how you can grow the impact of your SEO strategy by testing the improvements implemented on your website.
Finding and using zero search volume keywords
Steve Toth toys with the idea of optimizing content for zero search volume keywords. The reasoning is that search volumes are not nearly as accurate as we think. The article is a collection of opinions from around the community.
A reminder to enhance author bios with more content
Lily Ray delivers a quick reminder to build out author bios and really treat them as personal microsites. Check out her tweet for specific ideas on the types of content you can add.
Hottest threads from SEO forums
Reddit: Where did you learn SEO?
One of the most popular SEO threads this week was the one where Reddit users shared how they learned SEO. Not surprisingly, the majority of replies say the only reliable way to learn SEO is to launch and rank a website.
Reddit: How to create content that consistently ranks #1 - #3
Another extremely popular thread contained around 20 aspects of what makes good SEO content. While the tips are good, the thread might be lacking implementation details, which, as it happens, we provide in our article on SEO content creation.
A bit of SEO humor
Credit goes to @izzyonfire.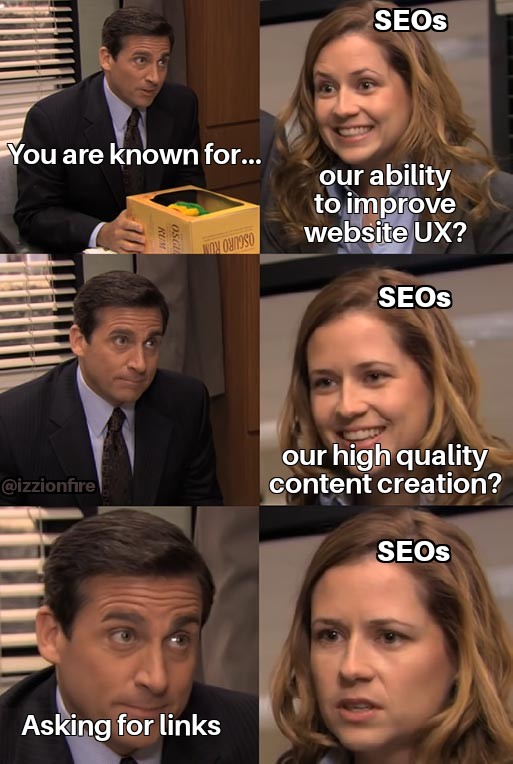 That's it for this week. Till next time!
---
Liked the digest? Share it with your friends:
Facebook | Twitter | LinkedIn | WhatsApp | Email
You are receiving this email because you subscribed to Link-Assistant.Com news. If you do not want to receive our email again, click to unsubscribe.

If you want to unsubscribe exclusively from this SEO digest, please contact our support in reply to this email.
Older messages

SERP Analysis – Now in Rank Tracker
Friday, August 13, 2021
Analyze up to 50 competitors in SERP for any keyword, instantly Hi Reader, Want to know more about your search competitors? And factors, which helped them rank for a certain keyword? From now on, Rank

SEO Digest #4: Search Console Changes, CWV Disparities and more
Sunday, August 8, 2021
Handpicked SEO news of the week straight from the source Hi Reader, We've handpicked top pieces of content from all around the SEO community from the past week. Here's everything you need to

Search Intent & SEO: The Ultimate Guide for 2021
Thursday, August 5, 2021
Learn the 4 types of search intent and how to optimize for each of them Hi Reader, Creating content that matches search intent is critical if you want to dominate Google today. In this week's post,

SEO Digest #3: Google Link Spam Update, Disqus Tricks and more
Monday, August 2, 2021
Handpicked SEO news of the week straight from the source Hi Reader, We've handpicked top pieces of content from all around the SEO community from the past week. Here's everything you need to

SEO Digest #3: Google Link Spam Update, SERP Experiments and more
Sunday, August 1, 2021
Handpicked SEO news of the week straight from the source Hi Reader, We've handpicked top pieces of content from all around the SEO community from the past week. Here's everything you need to