The 'NX' was dubbed 'Switch' five years ago
Your Nintendo digest for the week ending October 24.
Web version | Unsubscribe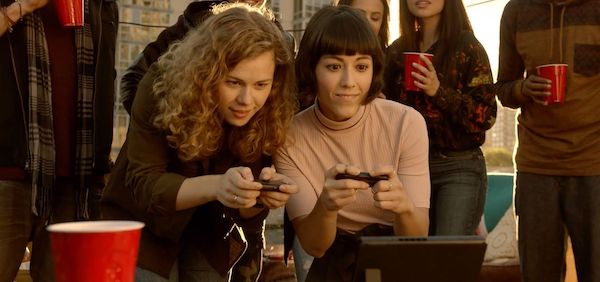 Hello, here's issue #254 of Switch Weekly, with your Nintendo update.
Before we get into this week's news, I'd like to start by talking about this newsletter.
As of this issue, Switch Weekly is now five years old. Yep, half a decade ago I was sat at work watching the initial reveal trailer for what we all now know as the Nintendo Switch. I quickly bought the domain, slapped a site together, and started asking folks to sign up for my new little newsletter experiment. A few days later I sent issue #1 to just over a dozen people (I'd love to know if you're still here). Thankfully I send these weekly updates to just a few more of you now (over 8,000 this week). It's been real fun to go back and look at the archives and see what we all thought of the NX/Switch before it was in our hands. Thank you so much for reading over the past five years — I really do hope this is one of the few emails you actually look forward to opening in your inbox. ❤️
ℹ️ Enjoy Switch Weekly? You can become a patron, or buy Chris a coffee to show your support.
To celebrate five years of Switch Weekly, the lovely team behind the excellent platform adventure game Horace have given me a copy of the game to giveaway. You can read a review of this gem right here, and you can follow them on Twitter too. To win all you need to do is tap this link — I'll be emailing one of you tomorrow to let you know you've won, so keep your eyes on your inbox. BTW, this is open to all. No region restrictions.
I have a brand new Nintendo-themed crossword puzzle for you to solve. I love putting these together, so please reply if you do give it a go and let me know how you found it — your feedback is handy, and lets me know whether to keep making them. Oh, and please do share them with any Nintendo fans you know who may enjoy a challenge. Here's a little tip: If you go to the 'Reveal' menu and tap 'Show a hint' you'll get another clue to help you out.
Finally, we've got another big list of games hitting the Switch next week, with over 30 titles on the way — including Mario Party and Voice of Cards. The full list is below.

Cheers,
Chris ✌️
🎮 Currently Playing — Metroid Dread
🎮 Upcoming Releases

All releases are digital, Europe & U.S. unless otherwise stated.
Release data sourced in collaboration with Switch Scores.
⭐️ = Ones to Watch | 📦 = Physical release | 🎮 = Demo available
Tuesday, October 26
Wednesday, October 27
Thursday, October 28
Friday, October 29
Saturday, October 30
Sunday, October 31
---
❤️ Switch Weekly remains accessible and sustainable thanks to the ongoing support of my absolutely amazing patrons, including:

PC, CapnGoat, SB, FrozenTrout, JR, MindFad, Greg, Michael Fairley, Chris D, and others — why not join them?

Switch Weekly is sent once weekly. If you're no longer interested, you can unsubscribe.

This newsletter may contain affiliate links, which help keep the newsletter sustainable.

🌳
In an effort to offset the carbon of sending this newsletter a tree is planted for every issue sent.

Copyright © 2021 Switch Weekly - Chris Brandrick, All rights reserved.
Made in Europe.
Key phrases
Older messages
Brewster's coffee goes cold on Expansion Pack price reveal
Sunday, October 17, 2021
Your Nintendo digest for the week ending October 17. Brewin up some DLC Web version | Unsubscribe Switch Weekly Issue 253 — October 17, 2021 Brewster in Animal Crossing: New Horizons Hey, Chris back in
Dreadful emulation, Sora in Smash, and OLED envy
Sunday, October 10, 2021
Your Nintendo digest for the week ending October 10. #ThankYouSakurai Web version | Unsubscribe Switch Weekly Issue 252 — October 10, 2021 Metroid Dread Hello, Chris here with issue #252 of Switch
Nintendo's 4K problem, OLED and Dread imminent
Sunday, October 3, 2021
Your Nintendo digest for the week ending October 03. 11 devs, 4k res, 1 rebuttal. Web version | Unsubscribe Switch Weekly Issue 251 — October 03, 2021 Super Monkey Ball Banana Mania Hey, here's
So, how about that Nintendo Direct...
Sunday, September 26, 2021
Your Nintendo digest for the week ending September 26. Leaky Kirb. Web version | Unsubscribe Switch Weekly Issue 250 — September 26, 2021 Kirby for Nintendo Switch Hi, Chris here with issue #250 (250!)
I'm still legit shocked at the Bluetooth audio news
Sunday, September 19, 2021
Your Nintendo digest for the week ending September 19. Switching to wireless. Web version | Unsubscribe Switch Weekly Issue 249 — September 19, 2021 Splatoon 2 AirPods Hey, Chris here with issue #249