Bloomberg - Evening Briefing - China's juggling act
Russia repeated its threat to target arms convoys sent by NATO allies as the Kremlin again fired missiles into the far west of Ukraine, near the border with Poland. An aircraft repair facility near Lviv was reportedly hit. In its fourth week and largely stalled, Vladimir Putin's attack on his neighbor is pivoting into modern siege warfare, with forces surrounding cities and shelling civilian populations, western officials said. "Russia is now pursuing a strategy of attrition," said Lieutenant General Jim Hockenhull, the U.K.'s Chief of Defence Intelligence. "This will involve the reckless and indiscriminate use of firepower. This will result in increased civilian casualties, destruction of Ukrainian infrastructure and intensify the humanitarian crisis."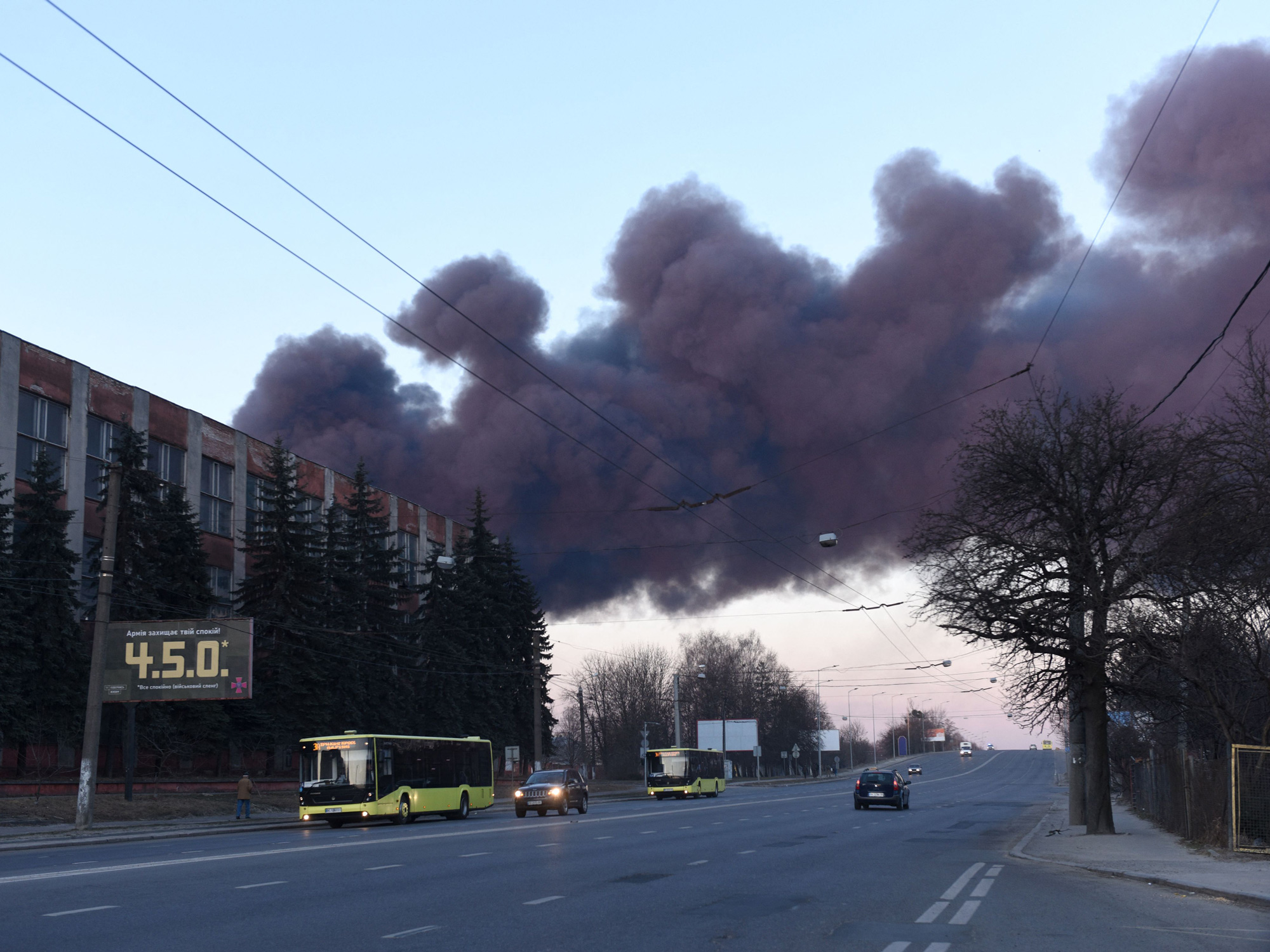 Smoke rises above Lviv, in western Ukraine, on March 18. Photographer: Yuriy Dyachyshyn/AFP/Getty Images
Chinese leader Xi Jinping assured U.S. President Joe Biden on Friday that he didn't want war in Ukraine, but that he doesn't approve of sanctions, either. During the highly anticipated call (according to statements by both sides afterwards), Biden warned Xi of "implications and consequences" should China move to provide support for Putin's war.
"We are ready to impose costs on China," Deputy Secretary of State Wendy Sherman told MSNBC. China should "understand that their future is with the U.S., with Europe, with other developed and developing countries around the world," she said. "Their future is not to stand with Vladimir Putin."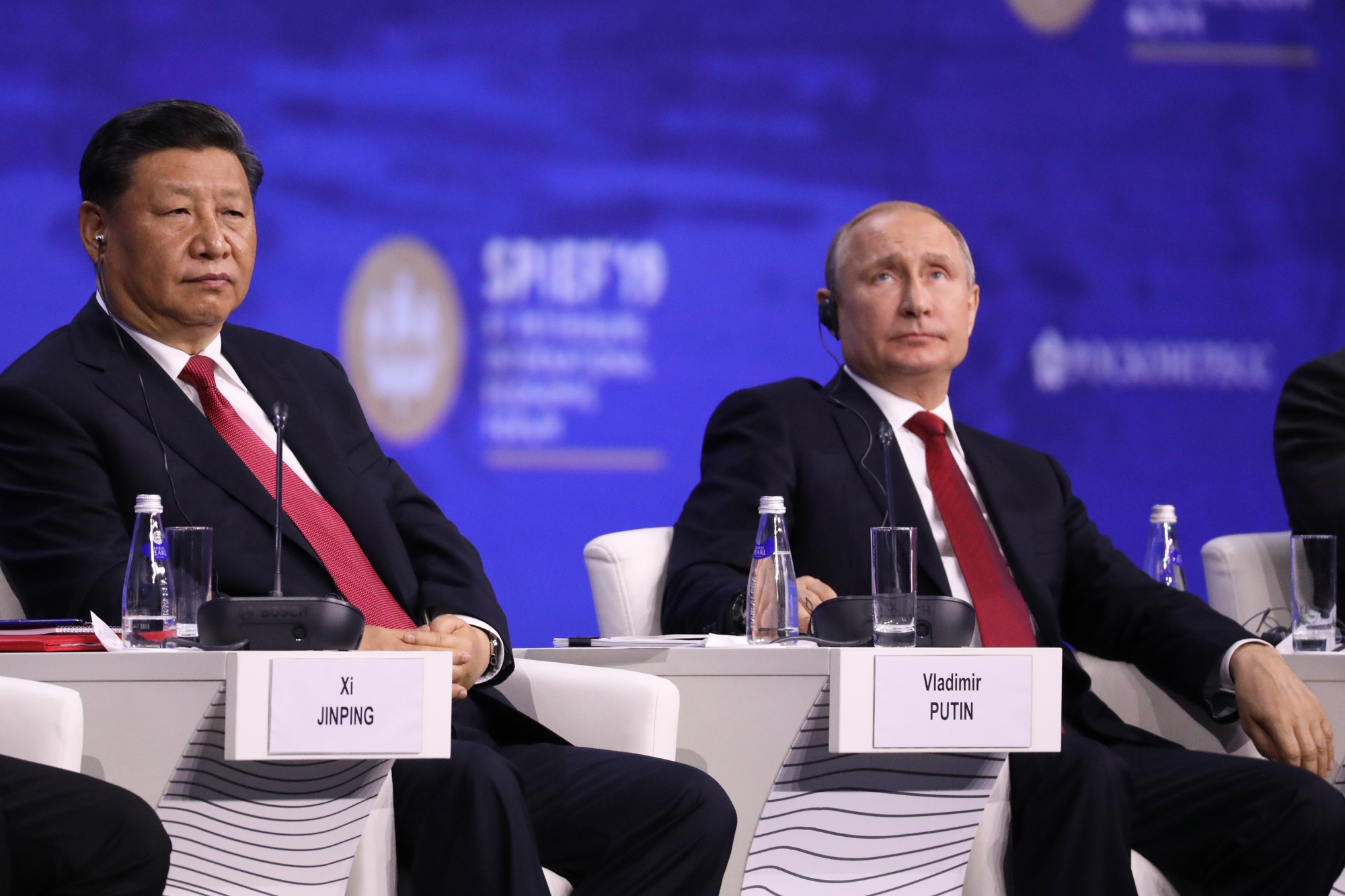 Xi Jinping, left, and Vladimir Putin at the St. Petersburg International Economic Forum in Russia in 2019. Photographer: Andrey Rudakov/Bloomberg
Over the past week, China has appeared to signal more distance between itself and Russia, saying it wants to avoid being the subject of sanctions. When it comes to economic issues, Beijing already has a lot on its plate. It took one of the biggest stock-market routs in its history, but Xi may finally be heeding the concerns of international investors. A sweeping set of promises to make regulation more transparent and predictable may suggest an appeal to investors abroad after the country was lumped in with Russia as "uninvestable." 
"The market was in free-fall—a clear signal was needed," Victor Shih, an associate professor at the University of California San Diego, said of China. "I think unclear and even deleterious policy conditions were beginning to create an all-out panic." —David E. Rovella
Bloomberg is tracking the coronavirus pandemic and the progress of global vaccination efforts.
Here are today's top stories
Swiss banks may hold more than $200 billion of Russian wealth, the country's banking lobby estimates, as sanctions shine a spotlight on the extent of Russian riches stored in other nations.
It's getting harder to deal in some of the world's most important commodities as everything from geopolitical turmoil to exchange snafus prompt traders to rush for the exits, rapidly draining liquidity. The world's biggest commodities markets are starting to seize up.
Not only have many Americans lost confidence in their pre-pandemic retirement plans, but almost half of those aged 18 to 35 "don't see a point in saving for retirement until things return to normal." Whenever that is.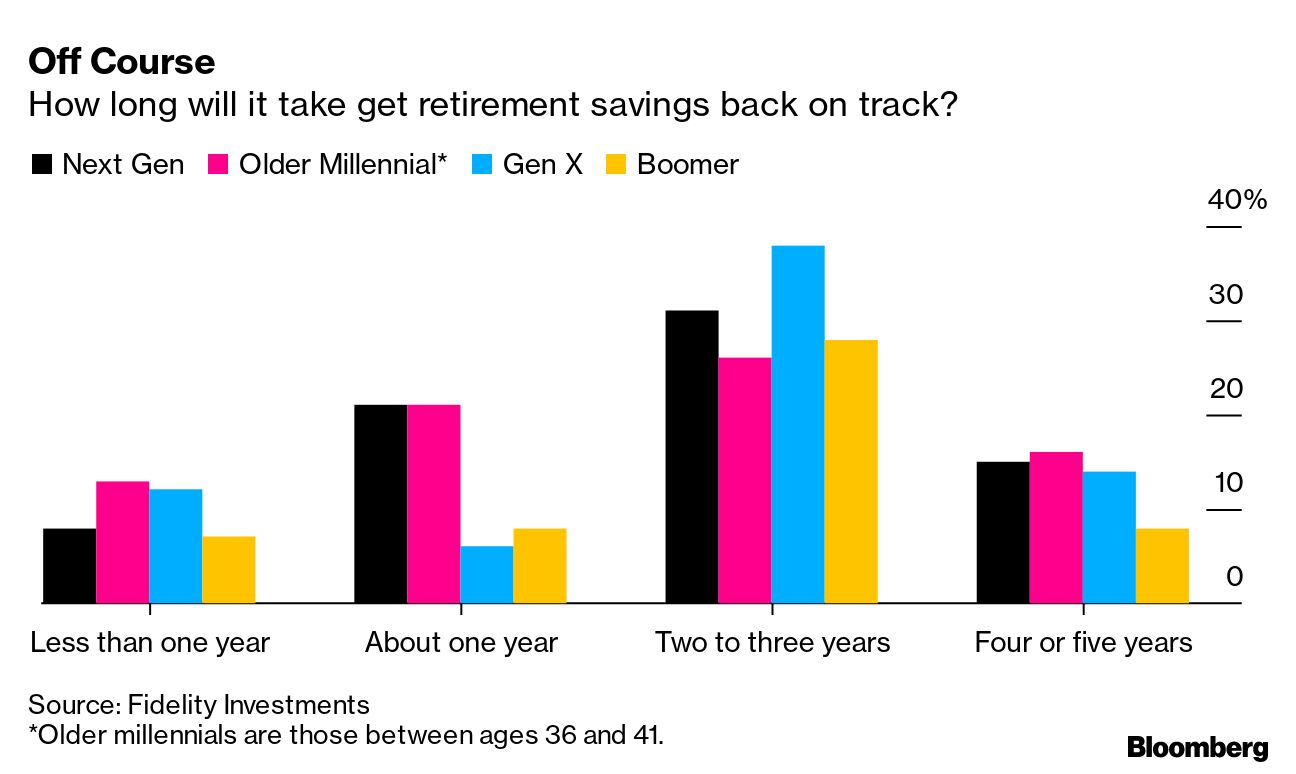 Messenger RNA vaccines made by Pfizer-BioNTech and Moderna were highly effective at preventing people from suffering the most severe outcomes from Covid-19 even as more infectious variants spread, a study found. Moderna just filed for U.S. regulatory clearance of a second booster shot for all adults, covering more people than the bid by Pfizer-BioNTech to cover those over 65. With more than 2 million confirmed new cases of Covid-19 on March 16 alone, the worldwide infection rate is on the rise again, fueled by the omicron variants of the pathogen. Here's the latest on the pandemic.
Indian conglomerate Adani Group is exploring potential partnerships in Saudi Arabia, including the possibility of buying a stake in the world's largest oil exporter, Saudi Aramco.
Gautam Adani  Photographer: Abhijit Bhatlekar/Bloomberg
Rising mortgage rates are already pricing out first-time homebuyers, but it's not enough to extinguish the U.S. real estate frenzy. Mortgage rates crossed 4% this week for the first time in almost three years, a rapid ascent that's taken some industry experts by surprise.
Hotter-than-average ocean temperatures are causing fresh damage to Australia's iconic Great Barrier Reef and prompting concerns over a new mass bleaching event that could further destroy the world's biggest living structure.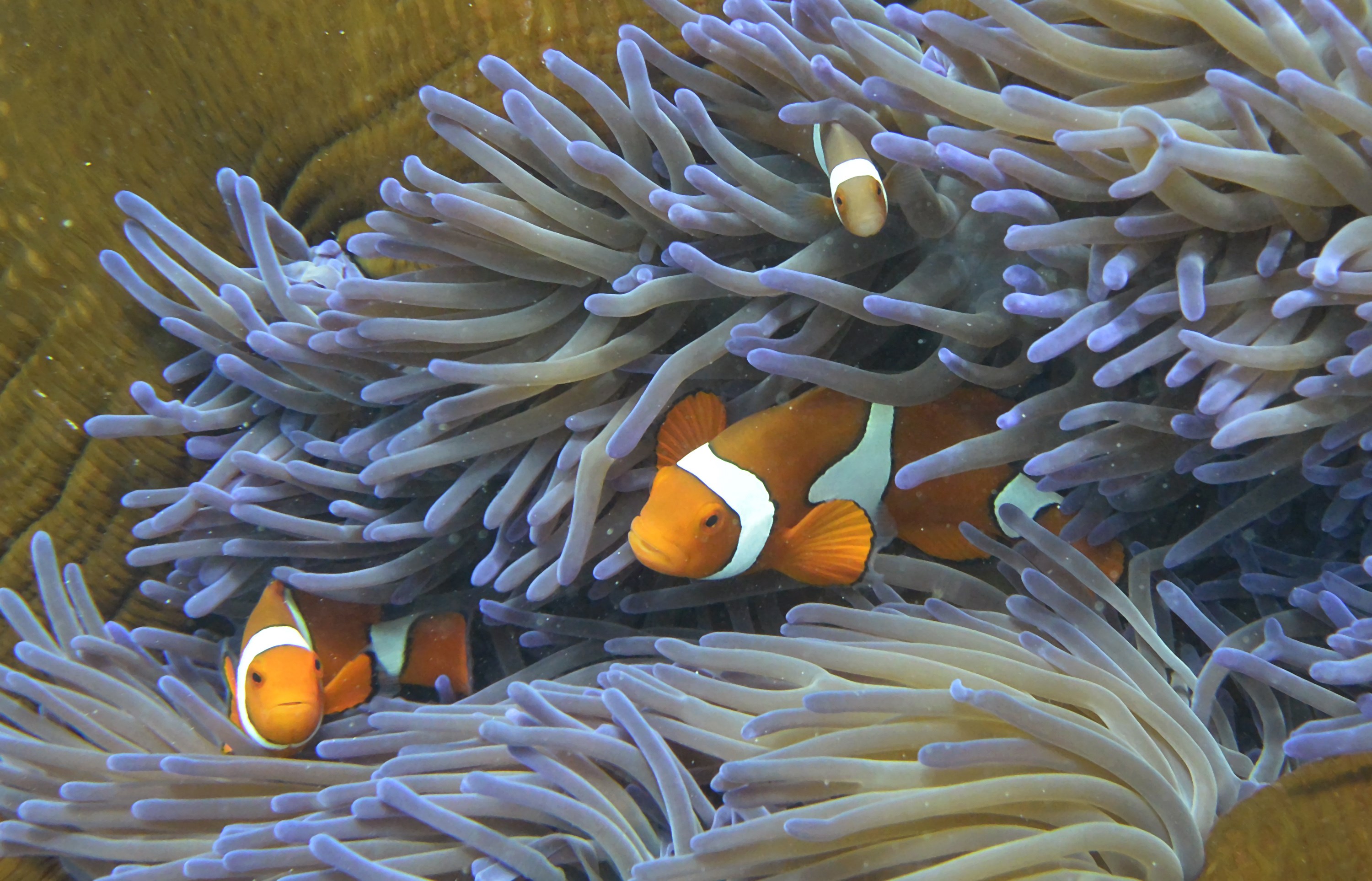 Fish swimming through the coral on Australia's Great Barrier Reef. Weather patterns over the coming weeks will determine the extent and severity of damage to the structure. Photographer: William West/AFP/Getty Images
What you'll need to know tomorrow
The first two-seat electric Porsche will be a 718, not a 911. The news comes after Volkswagen said Feb. 22 that it's preparing an initial public offering of Porsche (its most profitable asset) to help fund production of additional electric vehicles. Porsche has hinted at an electric 718 Boxster/Cayman-style vehicle since it unveiled the Mission R at the Munich auto show last year, but this was the first time executives have confirmed speculation.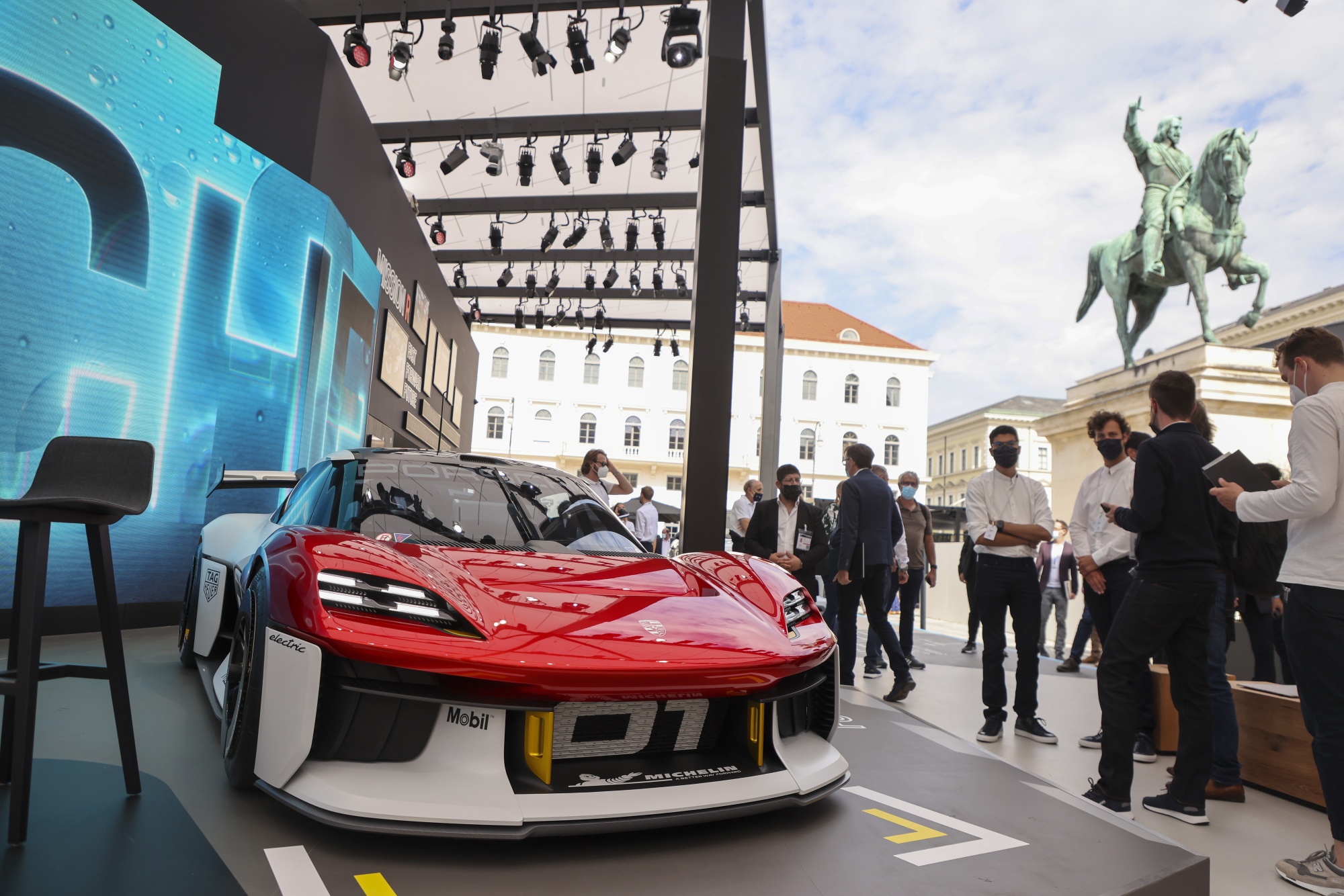 A Porsche Mission R concept car on display at the IAA Munich Motor Show in September.   Photographer: Alex Kraus/Bloomberg
Like getting the Evening Briefing? Subscribe to Bloomberg.com for unlimited access to trusted, data-driven journalism and gain expert analysis from exclusive subscriber-only newsletters.
Bloomberg Equality Summit: Join us for critical conversations about creating and maintaining a diverse, inclusive and equitable workforce. This year's hybrid program will include an exclusive in-person event taking place in New York on March 22 and virtual discussions that will follow on March 23. Register here.
Before it's here, it's on the Bloomberg Terminal. Find out more about how the Terminal delivers information and analysis that financial professionals can't find anywhere else. Learn more.
Download the Bloomberg app: It's available for iOS and Android.
Older messages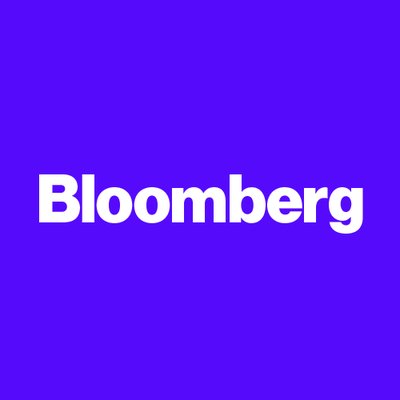 Biden's warning for China
Thursday, March 17, 2022
Bloomberg Evening Briefing View in browser Bloomberg US President Joe Biden will try to persuade Xi Jinping to ratchet up pressure on Vladimir Putin to end the war on Ukraine. Biden will tell Xi by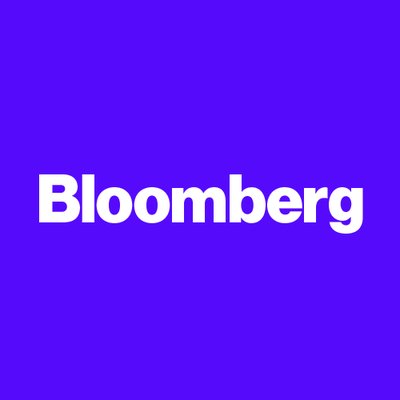 'War criminal'
Wednesday, March 16, 2022
Bloomberg Evening Briefing View in browser Bloomberg President Joe Biden said the US would send Ukraine drones as well as thousands of anti-aircraft and anti-tank missiles, a pledge of a robust new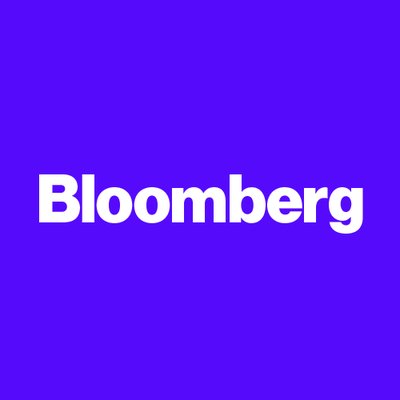 Russia's potential default
Tuesday, March 15, 2022
Bloomberg Evening Briefing View in browser Bloomberg Ukraine and Russia will resume talks Wednesday as a key adviser to Ukrainian President Volodymyr Zelenskiy called negotiations to end Vladimir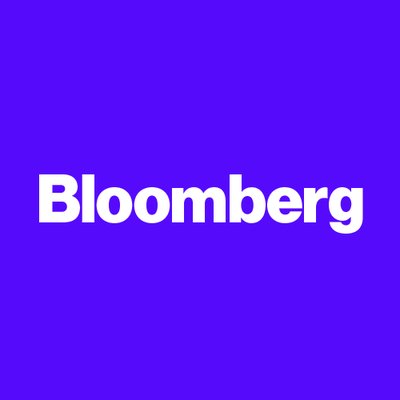 'They're lying to you'
Monday, March 14, 2022
Bloomberg Evening Briefing View in browser Bloomberg Russia's war on Ukraine has displaced almost 5 million people both in and out of the country, according to the United Nations, which warned that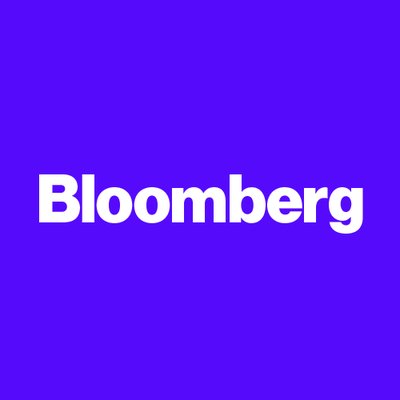 The threat of stagflation
Saturday, March 12, 2022
Bloomberg Weekend Reading View in browser Bloomberg Follow Us Get the newsletter Vladimir Putin's invasion of Ukraine is roiling commodity markets, from wheat to oil and fertilizers, exacerbating