CXL - Combating rising CAC
Ognjen Boskovic, Growth Lead at CXL
Building a company is becoming cheaper.

Acquiring customers is becoming more expensive.

(you can build a nocode product for $0, while CAC has increased by 70% for SaaS companies in the last 6 years according to ProfitWell)

For the most of our history, the opposite was the case. Now, strategy needs to adjust to these new terms.

This is what product-led companies have done - turned their product into the most effective acquisition channel by incorporating growth loops, acquiring new users for close-to-zero dollars.

Do you have a high-level strategy to combat rising CAC?
YOUR WEEKLY DOSE OF MARKETING UPDATES
1. Get Featured in Growth Notes
Your last real competitive advantage is constant innovation through experimentation at speed.


Submit your experimentation case studies and we will share them with our audience...
Newsletter (+120,000 readers)

Social media (+20,000 followers)
Case studies like the one you're about to submit help us educate more marketers on how to achieve speed through experimentation and win.
We will feature the best case studies across all of our channels and pay credits to you.
2. Building the Greatest Swipe File
Join us in building the greatest swipe file there is. We will feature the best ads across our different channels with credits to you:
Newsletter (+120,000 readers)

Social media (+20,000 followers)
You can submit ads you've created but also the ones others did. We'll pay credits to you anyway for contributing to the marketing community.

PS. You can also submit content pieces beyond ads, like landing pages, organic social content, etc.
Too many brands try to win by casting a wide net. They try to create the perfect product that everyone wants, instead of pinpointing a unique customer base and speaking directly to them.
A solid messaging strategy ensures you grab your target audience's attention, and build interest in what you're selling.
It takes time, steady research, testing, and optimizing to craft the right messaging strategy. This playbook will help you exactly with that.
4. The Serial Position Effect: Why Primacy and Order Matter in Psychology
You put tons of time into creating your product, experimenting with acquisition channels, and honing your messaging.
Yet here I am, about to tell you that consumers are often swayed by such subtle nudges as the order in which you present your products, or the "serial position effect."
We help you hire experienced, CXL certified marketers outside US in less than 100 days. Salaries starting at $40k.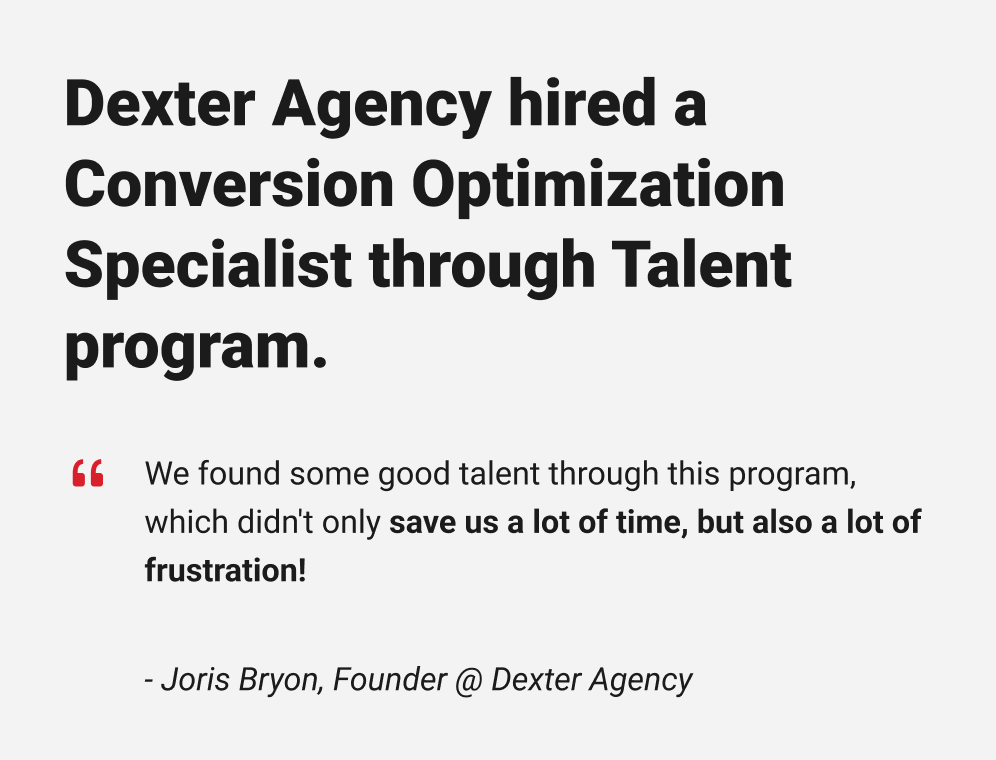 When we add a search bar in cart and focus on a gain or loss perspective… Will this lead to more add-to-cart and AOV? 
1. Insight Stage:
Problem and insights:

Users who search convert better, t

est risk aversion vs risk-seeking to motivate users to search, f

ind the right time to push search to users. 
2. Test Plan Stage:
Hypothesis: When we focus on loss aversion of forgetting an item in the cart and add a search bar, users are more likely to search which will result in more or similar transactions and a higher AOV.
3. Scorecard Stage:
Learning: Overall, adding a search bar in the cart led to more searches and add to carts. But less visitors finalized their purchase which led to a drop in transactions. The test performed the worst on mobile devices (significant drop in RPV and transactions).
Next steps: Don't implement. The search bar was used but might have been distractive in the cart, plus it pushed the call-to-action to check out down.
Our address: 901 S Mo Pac Expy, Suite 150, Barton Oaks Plaza One, Austin TX 78746

Unsubscribe from future emails like these.
Key phrases
Older messages
Experimentation is not just CRO
Thursday, December 29, 2022
TODAY'S HOST Ognjen Boskovic, Growth Lead at CXL It seems like experimentation is finally going mainstream. For the longest time, it was mostly... 'a well kept secret' to success in big
Thursday, December 22, 2022
TODAY'S HOST Ognjen Boskovic, Growth Lead at CXL Content can be a great growth loop. Most of the time, it ain't. Here's how you can turn content into a loop: User generated content Classic
Execution over data (+ juicy holiday offer)
Friday, December 16, 2022
TODAY'S HOST Merritt Aho, CEO at CXL I worked as a CRO for 11 years. As a CRO, I cared an awful lot about statistics. About the many, many ways one could misuse them. About the difference between
Thursday, December 8, 2022
Your host today is Ognjen Bošković, Growth Lead at CXL Experimentation always had a crucial role in business, but it was mostly reserved for sophisticated orgs or random acts of individual contributors
Thursday, December 1, 2022
Your host today is Merritt Aho, CEO at CXL An immutable law of speed in execution is focus. I've read 4 books so far this year about fast execution and each one has emphasized the importance of