SEO Digest #4: Search Console Changes, CWV Disparities and more

Hi Reader,
We've handpicked top pieces of content from all around the SEO community from the past week. Here's everything you need to stay up to date on new developments in search.
Search updates straight from the source
Safe Browsing is removed from Page Experience report in GSC
Safe browsing traditionally featured as one of the seven page experience signals, along with Core Web Vitals, interstitials, mobile-friendliness, and HTTPS. Google now recognizes that safe browsing is not always within the control of site owners and clarifies it's not used as a ranking signal.
Rich Snippets are removed from Search Appearance report in GSC
There are now enough "named" rich snippets and Google no longer needs to display the generic category. For a full list of rich snippet types that might be reported in Search Appearance, turn to this piece of documentation from Google.
Google explains CWV score discrepancies across its tools
Rick Viscomi of Google explains how we can have completely different Core Web Vitals scores across tools like Google Search Console, PageSpeed Insights, and Lighthouse.
Core Web Vitals could be more than just a tie-breaker
John Mueller answers a Reddit question about whether or not Core Web Vitals actually matter. He says CWV not just matter, but, depending on the type of content, could have more weight than other factors.
Cool stuff from the rest of the SEO world
Why Page Speed Matters: 10 Case Studies
ContentKing puts together a list of 10 case studies of various websites working on page speed. See what they decided to focus on and what kind of business results they got with faster pages.
Extract People Also Ask insights with this currently free tool
New and temporarily free tool for discovering PAA questions on any topic. Could be useful for creating Q&A pages, product reviews, and guide articles.
Seven ways to write blog introductions for readers and SEO
Pawel Grabowski of Search Engine Journal shares his tips on how to start blog posts in a way to capture readers and please Google.
Hottest threads from SEO forums
Reddit: Back scratching link-building method
u/gravyfarm describes a method of gaining backlinks in which you add content to existing posts rather than create guest posts from scratch. Would be a nice addition to our guide to building links when you are on a tight budget.
Reddit: What is something you wish you knew at the start of your SEO career?
The thread is a much needed grain of salt for anyone starting out in SEO. Although it has predictably turned into a discussion of what Google says vs. what Google does.
BHW: How many links are required for DR50?
BHW user asks whether they actually need another 163 000 backlinks to match the DR of their competitors. The answers will not surprise you — the quantity of backlinks is not nearly as important as the quality of backlinks.
A bit of SEO humor
An easy-to-follow SEO guide from @seanmarkey.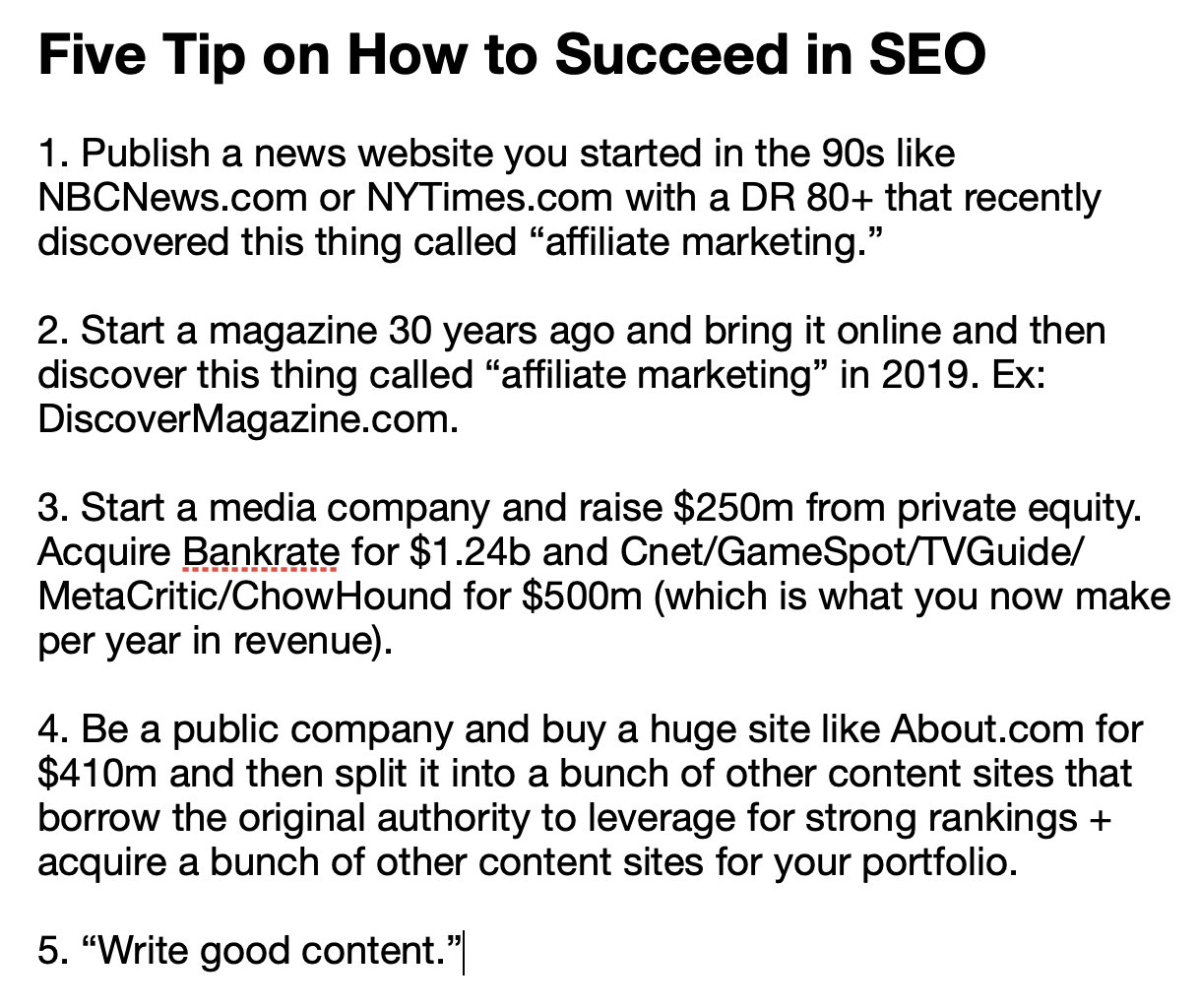 That's it for this week. Till next time!
---
Liked the digest? Share it with your friends:
Facebook | Twitter | LinkedIn | WhatsApp | Email
You are receiving this email because you subscribed to Link-Assistant.Com news. If you do not want to receive our email again, click to unsubscribe.

If you want to unsubscribe exclusively from this SEO digest, please contact our support in reply to this email.
Older messages

Search Intent & SEO: The Ultimate Guide for 2021
Thursday, August 5, 2021
Learn the 4 types of search intent and how to optimize for each of them Hi Reader, Creating content that matches search intent is critical if you want to dominate Google today. In this week's post,

SEO Digest #3: Google Link Spam Update, Disqus Tricks and more
Monday, August 2, 2021
Handpicked SEO news of the week straight from the source Hi Reader, We've handpicked top pieces of content from all around the SEO community from the past week. Here's everything you need to

SEO Digest #3: Google Link Spam Update, SERP Experiments and more
Sunday, August 1, 2021
Handpicked SEO news of the week straight from the source Hi Reader, We've handpicked top pieces of content from all around the SEO community from the past week. Here's everything you need to

9-Step Guide to Pinterest SEO
Tuesday, July 27, 2021
Drive tons of traffic from Pinterest by following these optimization tips Hi Reader, With its 450M active users, Pinterest is your go-to place for boosting brand awareness and driving tons of traffic

SEO Digest #2: Google Explains Traffic Drops, Local SEO Checklist and more
Monday, July 26, 2021
Handpicked SEO news of the week straight from the source Hi Reader, We've handpicked top pieces of content from all around the SEO community from the past week. Here's everything you need to