The U.S. pandemic death toll, the worst in the world, topped 600,000 this week, a stark reminder of the nation's repeated failure to impose sufficient precautions throughout the crisis. With hundreds more dying every day, President Joe Biden said it's also a warning that the fight is far from over. The grim milestone renewed urgency to get Americans inoculated as more contagious—and potentially more dangerous—variants spread. In a hopeful sign, however, New York lifted Covid-19 restrictions as the state, once a global epicenter, reached the 70% vaccination mark. Today, India is ground zero for the latest wave of infection. And while its death toll continues to climb, a new crisis is emerging on the subcontinent. Here's the latest on the pandemic. —Margaret Sutherlin
Bloomberg is tracking the progress of coronavirus vaccines while mapping the pandemic worldwide. 
Here are today's top stories  
The truce ending a 17-year trade dispute between the European Union and the U.S. is more about something else than it is about subsidies for Airbus and Boeing. Besides parking $11.5 billion in tariffs, the deal also includes a commitment for the EU and U.S. to tackle "non-market practices of third parties" which could threaten the airplane makers. That's code for China.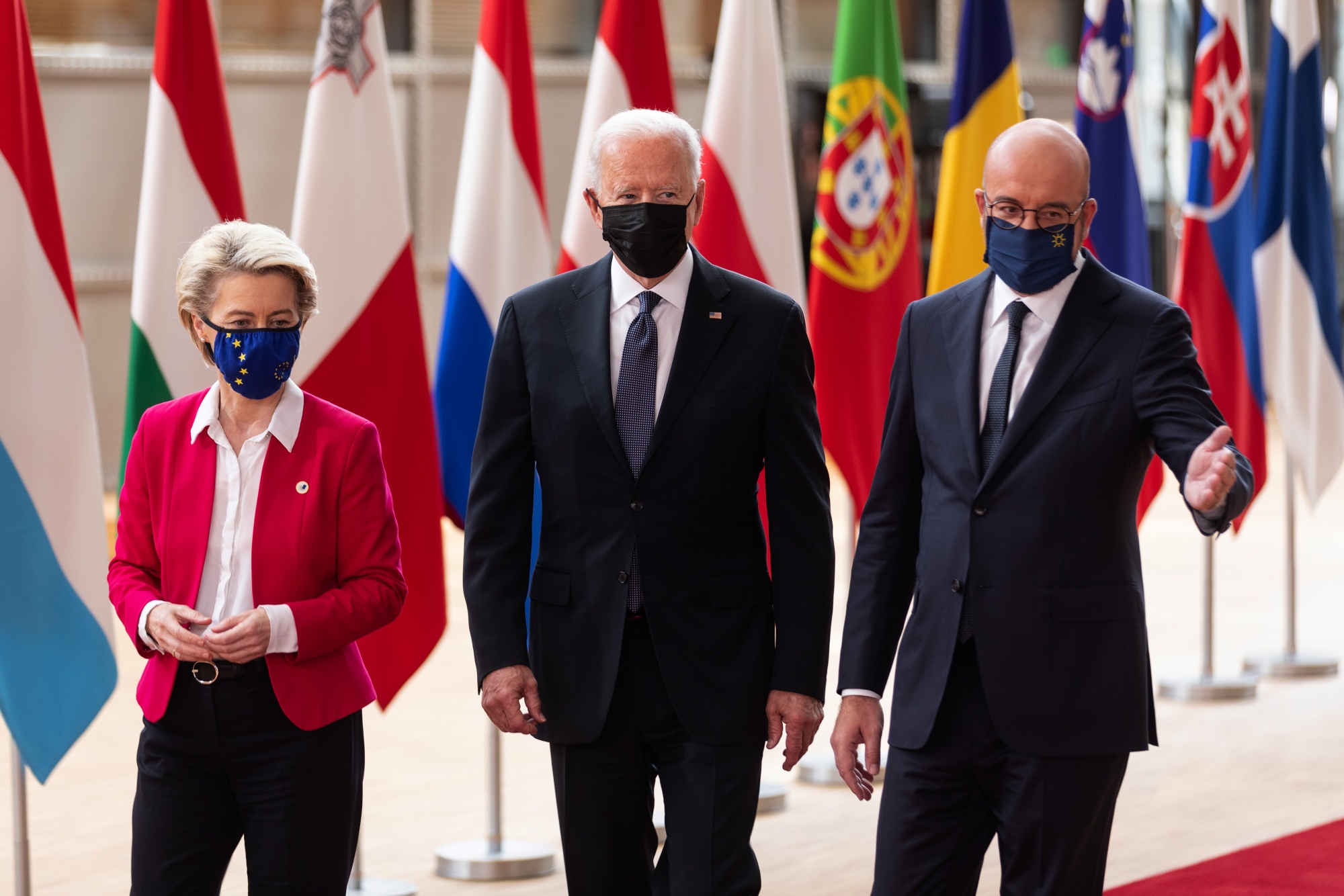 President of the European Commission Ursula von der Leyen, U.S. President Joe Biden and Charles Michel, president of the European Council, at an EU summit in Brussels, Belgium, Tuesday. Photographer: Bloomberg
MacKenzie Scott, the billionaire philanthropist and former wife of Jeff Bezos, announced she donated $2.7 billion to a variety of charities. That brings her total giveaway to $8.5 billion since July 2020. She's not the only wealthy American giving big, either.
More signs are pointing to a bumpy U.S. recovery. Prices paid by producers (and thus by consumers) rose more than expected in May. Retail sales slipped again after an earlier, Covid bailout-fueled spike. Markets didn't much like the new data: Here's your markets wrap. 
Warning signs are emerging that the housing bubble may be ready to burst. New Zealand, Canada and Sweden rank as the world's frothiest housing markets, according to Bloomberg Economics. As people everywhere scramble for more space, another trend is emerging in America: a rush for vacation homes.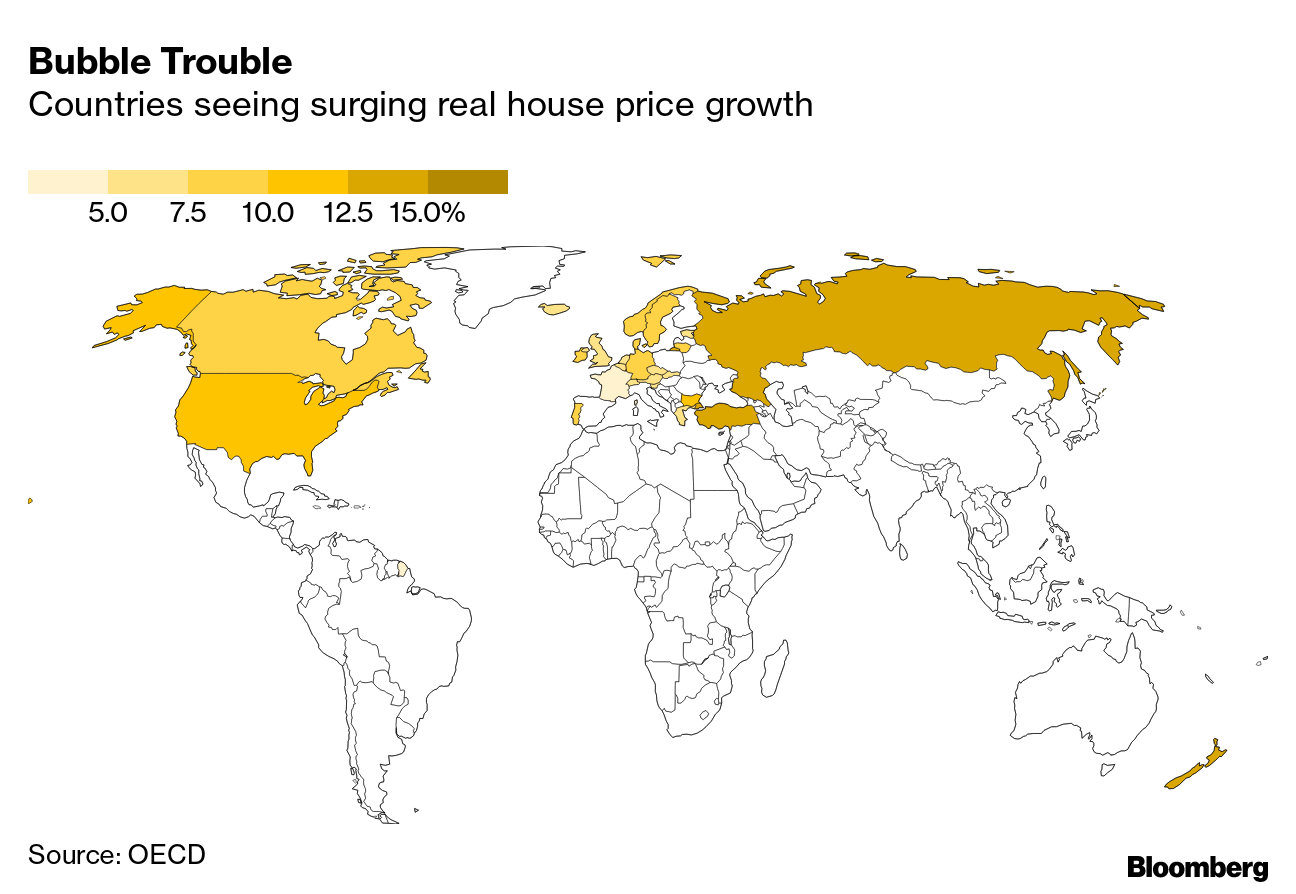 U.S. House Democrats are threatening to move ahead without Republicans on an infrastructure bill if a deal can't be struck by the end of next week. A bipartisan group of senators have been wrangling over a tentative deal, but the White House said it doesn't have a deadline. 
Given the deadly Jan. 6 assault on Congress by Trump supporters, one that included members of "militia," neo-Nazis and other white supremacist groups, Attorney General Merrick Garland laid out a clearer view of how the U.S. planned to combat domestic terrorists. 
Texas is pushing homes and businesses to conserve electricity for a second day in a row to stave off blackouts as a punishing heat wave bakes the western U.S.
What you'll need to know tomorrow 

Sponsored Content
A new classic perfectly composed for the Upper West Side at the nexus of Lincoln Center and Central Park. Inspired by the grand landmarks lining Central Park West, 200 Amsterdam is a contemporary interpretation of New York's pre-war classics – merging elegant architecture by Elkus Manfredi and genre-defying interiors by CetraRuddy into a striking balance. One to Five Bedroom Condominium Residences from $2.625M.
Airbnb built its entire platform on the idea of hosts and travelers trusting one another, Bloomberg Businessweek reports. But when the absolute worst happens, millions in settlements and a secretive security team helps the company keep nightmares quiet.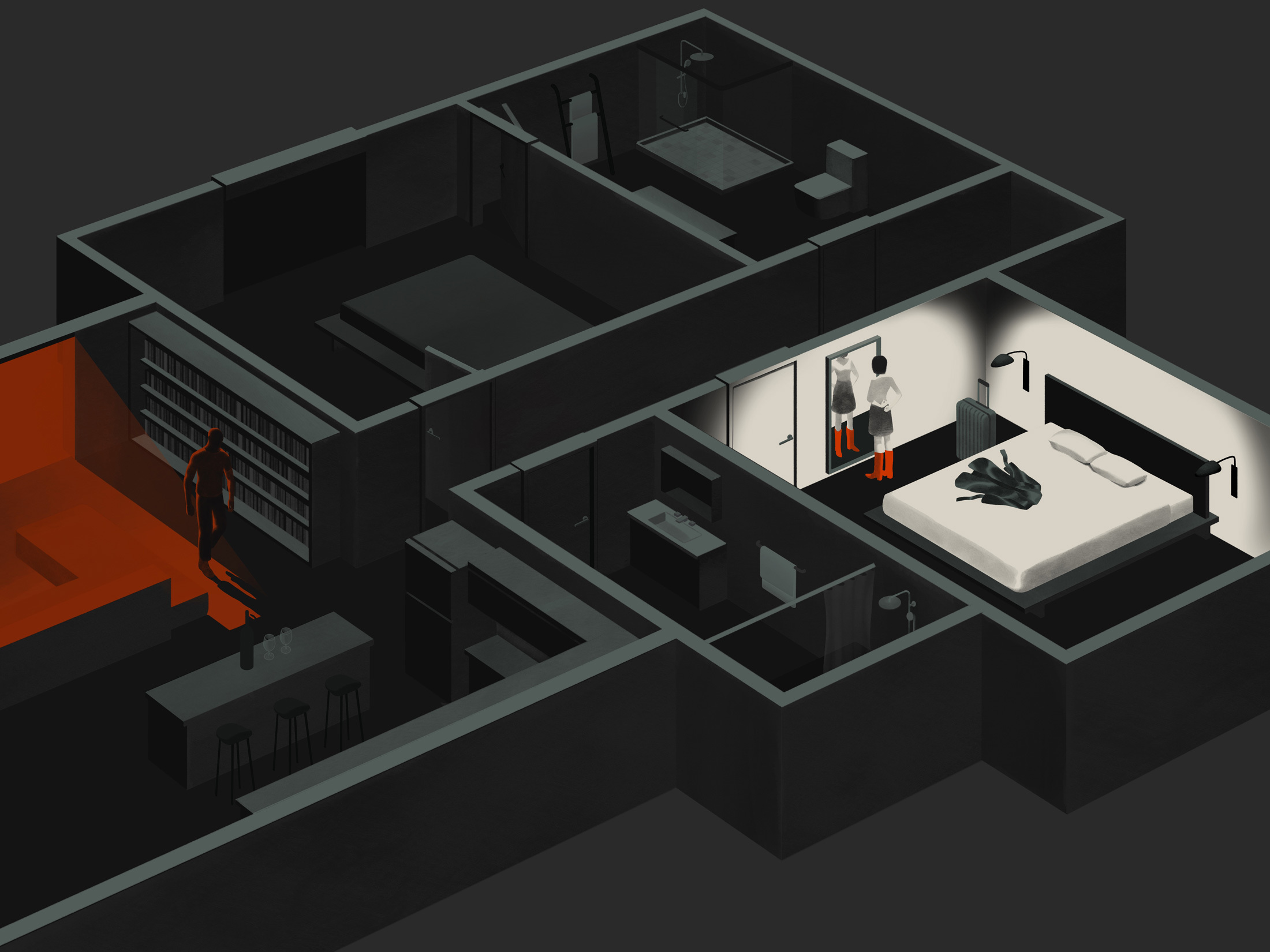 Illustration: Jun Cen for Bloomberg Businessweek
Like getting the Evening Briefing? Subscribe to Bloomberg.com for unlimited access to trusted, data-driven journalism and gain expert analysis from exclusive subscriber-only newsletters.
Watch the future unfold on June 30. Register here for Bloomberg New Economy Catalyst, a global, 6-hour virtual event celebrating the innovators, scientists, policymakers and entrepreneurs accelerating solutions to today's biggest problems. We will explore what matters, what's next and the what-ifs of climate change, agriculture, biotech, digital money, e-commerce and space through the imaginations and stories of these ascendant leaders. 
Before it's here, it's on the Bloomberg Terminal. Find out more about how the Terminal delivers information and analysis that financial professionals can't find anywhere else. Learn more.
Download the Bloomberg app: It's available for iOS and Android.
Older messages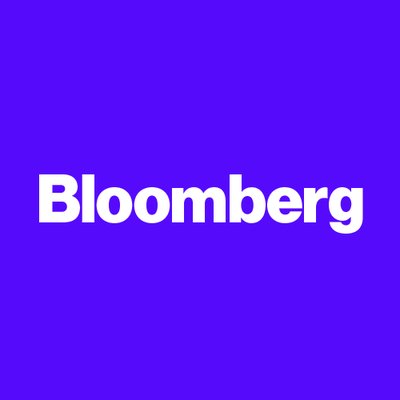 Good news on Covid
Monday, June 14, 2021
Bloomberg There were two big developments on the pandemic front Monday, and both were positive. Health officials in England said Covid-19 vaccines from Pfizer-BioNTech and AstraZeneca-University of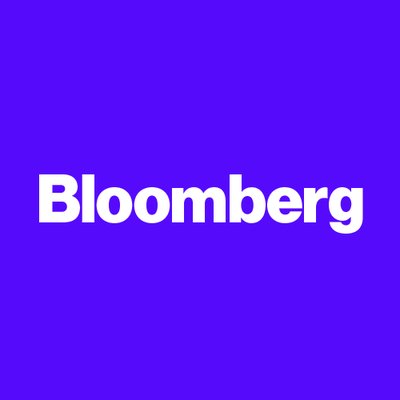 Biogen blowup
Saturday, June 12, 2021
Bloomberg Follow Us Get the newsletter The US Food and Drug Administration's landmark decision to approve Biogen's Alzheimer's treatment, the first new drug for the disease in almost 20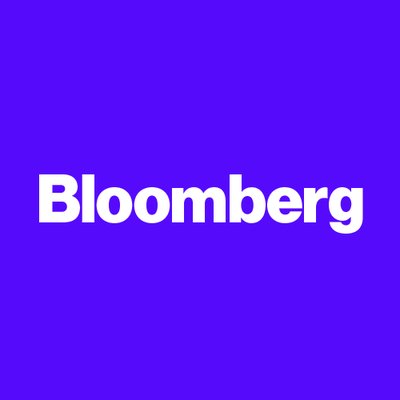 G7, minus Trump
Friday, June 11, 2021
Bloomberg Group of Seven leaders gathered in the UK for the first in-person summit since the pandemic began. There are major agenda items on the table: managing relationships with China, supporting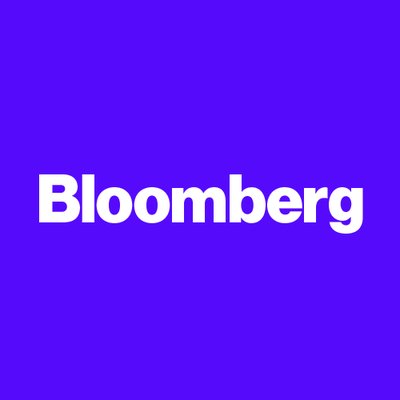 Saved by day traders
Thursday, June 10, 2021
Bloomberg Day trader favorite AMC Entertainment may be on a path to stability, and it has the Reddit crowd to thank for it. The movie theater operator has cashed in on its meme-stock status to raise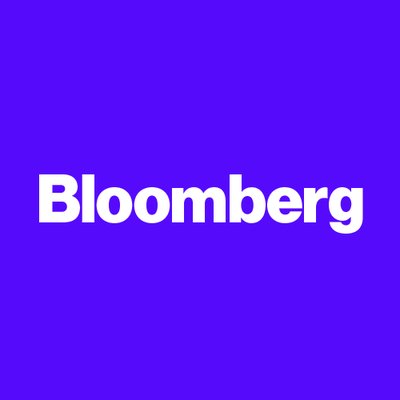 Shorts run for cover
Wednesday, June 9, 2021
Bloomberg New names were added to the meme-stock frenzy as retail traders latched on to fresh favorites Wednesday. Prison operator GEO Group soared 60% and Clean Energy Fuels jumped at least 24%,