The Latest from SaaStr: 5 Interesting Learnings from Zscaler at $1B ARR
To view this email as a web page,
click here
So Zscaler is the quiet SaaS and Cloud leader that just … delivers. Even in a challenging time for public stocks.
Zscaler is worth a breathtaking $30B at $1B in ARR, growing a stunning 63%.
With a seasoned solo founder that knew security cold, Zscaler has been a quiet winner in Zero Trust and more. Zscaler leaned early into security in a cloud-first model, and it worked. With CEO Jay Chandhry still owning 25% of a $30B market cap, it's also an epic model in managing dilution.
Read the full article: 5 Interesting Learnings from Zscaler at $1B in ARR
Category creation involves dreaming up a new suite of products that can sell via traditional channels or methods. It's a process that demands more than a game-changing product, as it takes having the right talent on your team and a consistent vision that drives all aspects of your business.
Mark Ghermezian, the co-founder of Braze, takes us through his journey of reinventing a category and building Braze from an idea into a dominant player in the mobile lifecycle marketing space.
Read the full article: How to Reinvent a Category that's Already Been Won with Braze Co-Founder Mark Ghermezian (Pod 550 + Video)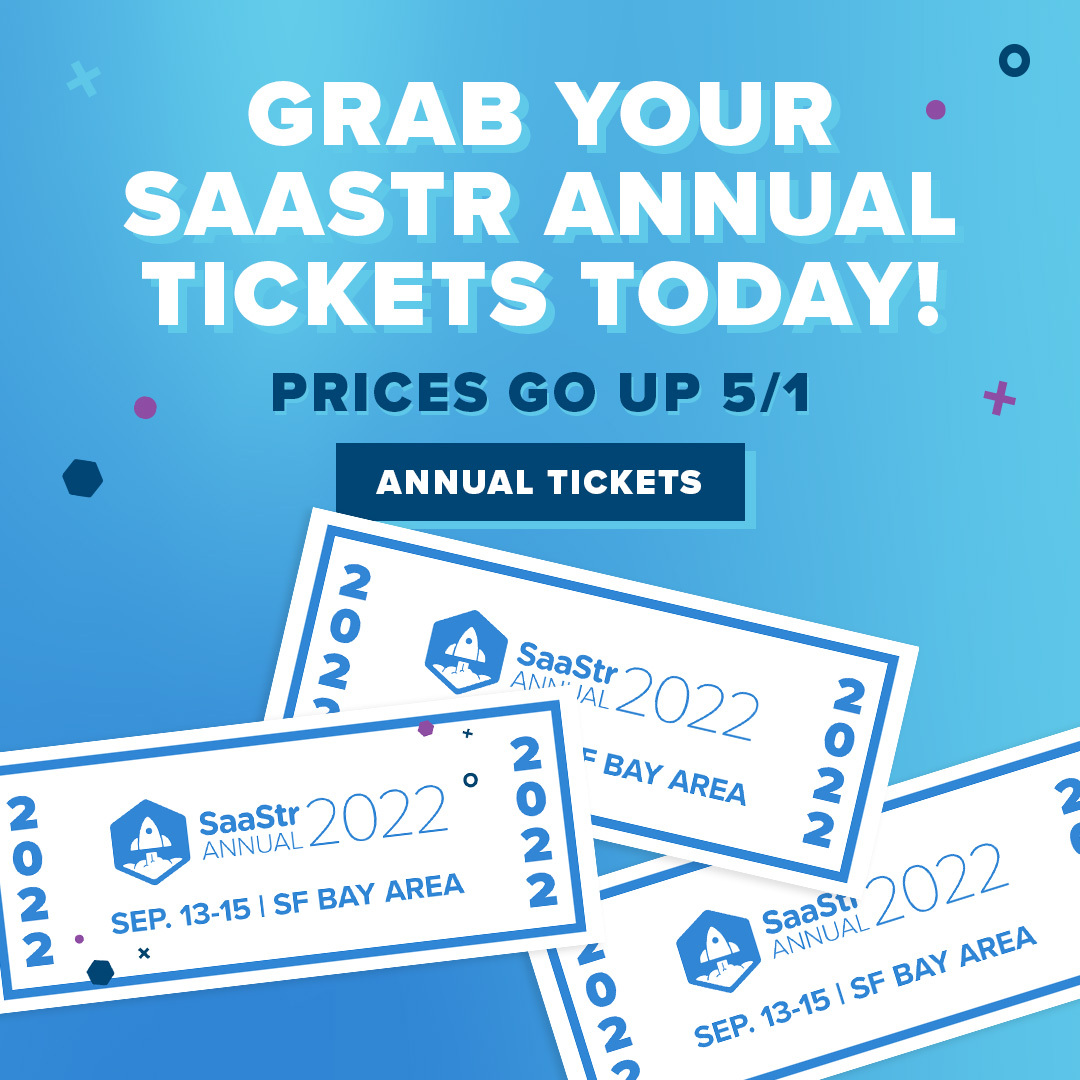 10,000+ SaaS executives, founders, and VCs will come together for SaaStr Annual 2022, the world's largest SaaS community event on the planet:
3 full days with 100+ tactical sessions from world-known founders, new voices, and up & comers

250+ speakers from the best SaaS companies across the world

1000+ Networking meetings, AMAs, mentoring sessions, 1-on-1s, and roundtables

750+ VCs in attendance, with 1:1 Meet a VC matchmaking

150+ of the best sponsors who are driving innovation in Cloud
SaaStr Daily readers get $100 off, but don't wait! Prices go up May 1!
So the story of the past few years has been the explosion of SaaS and Cloud unicorns. With upwards of 400 SaaS and Cloud startups now valued at $1B+ now (out of 1,200+ total Unicorns), times are good.
But … but … it's not that simple. VCs and investors in unicorns need to make money. They need them to become … decacorns. Especially the later stage investors do.
Read the full article: It's a Lot Harder to Build a SaaS Decacorn Than It Used To Be
It's the never-ending stereotype –– marketing and sales are eternal "frenemies." However, this push-and-pull doesn't have to be part of your organization as long as you hire and empower the right leadership.
In this session, Tolithia Kornweibel, CRO at Gusto, shares advice on creating sustainable partnerships between marketing and sales.
Read the full article: CMO + CRO = Love: Building Lasting Leadership with Gusto CRO Tolithia Kornweibel
This webinar with top marketing leaders Dave Gerhardt & Mitch Causey is your crash course on B2B SEO essentials for 2022—and beyond.
Today's buyers hear from their peers about what works, before they talk to you or your competitors. It's time to activate community-led growth.
© SaaStr 2022
255 Kansas, Suite 300, San Francisco, CA 94103
If you'd like to stop receiving the SaaStr Daily, click here
Key phrases
Older messages
The Latest from SaaStr: It's Basically a Quiet Series A, Series B, C and D Crunch Now
Tuesday, April 26, 2022
Plus, the latest from SaaStr To view this email as a web page, click here saastr daily It's Basically a Quiet Series A, Series B, C and D Crunch Now By Jason Lemkin · Monday, April 25, 2022 |
5 Interesting Learnings from Confluent at $500M; Plus Weekly SaaS News and Updates
Sunday, April 24, 2022
The latest SaaStr articles and Cloud news To view this email as a web page, click here saastr weekly Hey SaaStr Community, So this is a seemingly simple post, and one with a title that is purposefully
The Latest from SaaStr: Are You Fundable in 2022?
Saturday, April 23, 2022
Plus, the latest from SaaStr To view this email as a web page, click here saastr daily Are You Fundable in 2022? Just Ask Your Existing Investors. Ask Them. By Jason Lemkin · Friday, April 22, 2022 |
The Latest from SaaStr: 5 Interesting Learnings from Confluent at $500M
Thursday, April 21, 2022
Plus, the latest from SaaStr To view this email as a web page, click here saastr daily 5 Interesting Learnings from Confluent at $500000000 in ARR By Jason Lemkin · Wednesday, April 20, 2022 | 5
The Latest from SaaStr: Top Startup Valuations Are Falling
Tuesday, April 19, 2022
Plus, the latest from SaaStr To view this email as a web page, click here saastr daily ForgeRock: Top Startup Valuations Fell 19.95% in February and March By Jason Lemkin · Monday, April 18, 2022 |