Stand out in a crowded market (+25% revenue growth)
Steven Macdonald, Head of Content at INEVO
Digizuite (a digital asset management platform) and its competitors were all ranking for the same keywords.
Here's the challenge: the competition was already in top positions and had strong organic metrics.
Instead of trying to outrank them, we used buyer input to create new content. 
To capture this input, we created high-intent sign-up forms on our site. We asked - "What is your biggest challenge in managing digital assets?".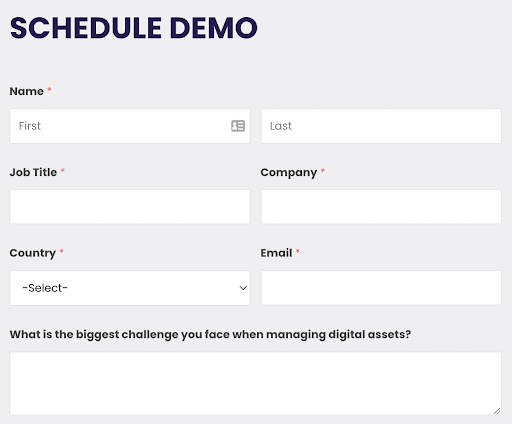 This form generated 30 sign-ups per month, and it also included the buyer's biggest challenge.
We switched the strategy, forgot about content gaps, and focused on our audience. We began creating content around their challenges and how Digizuite solved them.
That valuable user input was used for both content creation (landing pages, blog posts, white papers) and content updates (product pages, sales collateral).
One simple question, placed on high-intent web forms, allowed us to build a buyer-centric content engine.
This was rolled out in February 2022, and since then:
90,000 buyers have consumed the content.

Qualified buyers within our ICP doubled.
YOY revenue has increased by 25%.
We're no longer competing for the same keywords, and traffic and revenue have hit an all-time high.
YOUR WEEKLY DOSE OF MARKETING UPDATES
1. Learn more, pay less
2. How creating a sense of urgency increased sales
3. Develop a product marketing strategy
4. What makes e-learning useful to you?
5. Get featured in Growth Notes
6. Building the greatest swipe file
7. What's in a strategic testing roadmap?
Research shows studying in pairs makes you retain information better and longer, and provides you with a system of checks and balances.

Similarly, your bank account shows signs of relief when you split costs with someone. Say, a study buddy.
That's why we've introduced a new 1+1 offer to the CXL subscription.
Here's how it works:
Invite one friend/colleague to your team account
You both get access to CXL content
Split the cost (equivalent to 50% discount for each)
This way, you don't only get a discounted price for your ongoing marketing education, but also a study buddy with whom you'll push each other into learning even more from the top 1% marketers on our platform.
Sign up for the 1+1 CXL subscription offer here.
2. How creating a sense of urgency increased sales by 332%
A few years ago, Marcus Taylor, an award-winning entrepreneur, launched The Musicians Guide.
It was a kind of "Groupon deal for musicians", available only for 100 hours and only with 5,000 packages.
He had spent four months putting it together, and invested a significant amount of his personal savings into ensuring the campaign was everywhere during those 100 hours.
It had to work. And because of that, he obsessed over conversion rate. This obsession paid off when he managed to increase conversion rate from 2.5% to 10.8%.
While there was a range of factors that influenced this increase, the single largest one was focusing on scarcity and urgency.
This article will teach you the five precursors that urgency requires, and how it can become the single strongest catalyst that skyrockets your conversions.
3. Develop a product marketing strategy
Research from the Harvard Business School says 30,000 new products are launched in the market every year. And 95% of them fail.
The biggest reason for such a high failure rate is poor product-market fit, positioning, and messaging.
Companies often focus solely on building the perfect product, and neglect other growth efforts.
Your product marketing strategy is the roadmap for understanding your customers, where to play, and how to win once they reach you.
The perfect strategy helps customers perceive you as a better product for their needs, and through the constant feedback loop, you become the best solution.
This playbook will help you achieve exactly that.
Get your playbook on how to develop a product marketing strategy.
4. What makes e-learning useful to you?
Got 15 seconds? We'd love to get your feedback on how to improve our content.
5. Get featured in Growth Notes
Your last real competitive advantage is constant innovation through experimentation at speed.


Submit your experimentation case studies and we will share them with our audience...
Newsletter (+120,000 readers)

Social media (+20,000 followers)
Case studies like the one you're about to submit help us educate more marketers on how to achieve speed through experimentation and win.
We will feature the best case studies across all of our channels and pay credits to you.
6. Building the greatest swipe file
The ad of the week comes from G2 this time.

What's great about it:
100% clear benefit from the title, with a pinch of urgency too ('is waiting')
Clearly communicates the key value proposition of G2 ('reach the right audience, right away')
Showcases the actual product interface
Visually stunning, yet clear and not crowded
CTA tackles a major user question; 'will I talk to an expert or should I expect a pushy sales person on a demo?'
Be more like G2.
Join us in building the greatest swipe file there is. We will feature the best ads across our different channels with credits to you:
Newsletter (+120,000 readers)

Social media (+20,000 followers)
You can submit ads you've created but also the ones others did. We'll pay credits to you anyway for contributing to the marketing community.
7. What's in a strategic testing roadmap?
A strategic testing roadmap is the culmination of research, and the basis of an OKR-style action plan for a testing program.
It includes a 'punch list' of features worth testing, both strategic and tactical, based on insights coming from triangulated data. The 'Key Results' part of the OKR depends on these.
Research objectives are framed as "how might we..." questions. These questions arise during the research itself, after coding among the insights and finding problem/opp patterns.  
As you go through the insights in the punch list, the needle will move on some goal-associated KPIs. All tests should get reported via a dashboard, to quicken the decision part of the flywheel.
A research-based strategic roadmap is essential for any testing program. It helps you organize objectives and tactics with research and metrics, and communicate with your team about the key results of your tests.
Our address: 901 S Mo Pac Expy, Suite 150, Barton Oaks Plaza One, Austin TX 78746

Unsubscribe from future emails like these.
Key phrases
Older messages
95% of your market won't buy from you
Thursday, February 23, 2023
TODAY'S HOST Ognjen Bošković, Growth Lead at CXL Only 5% of B2B buyers are ready to buy right now. (according to research from the B2B Institute and Professor John Dawes of the Ehrenberg-Bass
Friday, February 17, 2023
TODAY'S HOST Merritt Aho, CEO at CXL "In the final category, conclusions, skill comes in stating no more than the experiment has proved." - Robert Pirsig, Zen and the Art of Motorcycle
Thursday, February 9, 2023
TODAY'S HOST Merritt Aho, CEO at CXL Feedback from customers is gold. We recently got some feedback over a public channel that was hard to hear, but incredibly valuable. Made us realize that
Thursday, February 2, 2023
TODAY'S HOST Merritt Aho, CEO at CXL Oh Google Optimize, I do not mind seeing you GO. Your senseless session-based metrics just didn't win me over. I don't want to know how many times
How to make $15k + a ton of buzz in 60 minutes
Thursday, January 26, 2023
TODAY'S HOST Neal O'Grady, Co-Founder at Demand Curve Social pressure sells. Combine it with time pressure, and it's as desirable as water at Burning Man. We sold out the early bird sale